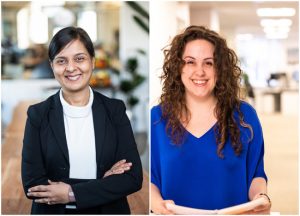 Design firm Buro Happold has announced an elevation of 17 senior firm members to partner this year, effective May 1.
Among the firm's new U.S. leaders are two prominent women practitioners: One known for innovative structural engineering, Yasmin Rehmanjee, and the other a leader in sustainable, high performance-built environments, Julie Janiski.
Additionally, the announcement reflects Buro Happold's joining forces with higher-education consultancy brightspot strategy, creating a specialized and integrated team of experts to help solve the challenges impacting colleges and universities today. Among the sector leaders is brightspot strategy's founder and a new Buro Happold partner, Elliot Felix.
Other new U.S. partners on May 1 will include Robert Okpala, who has led Buro Happold's regional multidisciplinary teams for mechanical, electrical, and plumbing (MEP) engineering on many large and complex projects, and the team that created a sustainability plan for
New York's Battery Park City. Also an MEP leader, Panji Grainger has worked globally on high-profile stadiums, towers, and mixed-used commercial, retail, and residential buildings, including projects in the United Kingdom, Italy, Russia, India, Malaysia, and the United States.
Also advancing to Buro Happold's roster of partners is Jeremy Snyder, who has almost two decades of experience in high-performance building and campus design. His credits include such works as the Tower at PNC Plaza and the Pittsburgh International Airport Terminal Modernization.
According to a company media release, the appointments add further strength and diversity to Buro Happold's leadership team, supporting the firm's strategy for continued growth through 2021 and beyond.
Buro Happold CEO Neil Squibbs said of the new cohort, "They bring broad geographical and industry expertise, diverse lived experiences, and energy that will drive the growth of Buro Happold, supporting our commitment to shape an equitable and sustainable future built environment for all."