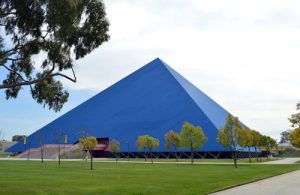 The Walter Pyramid in Long Beach, California, has won the Lifetime Achievement award from the American Galvanizers Association (AGA).
This award is presented to projects with a minimum of 15 years in service. Located on Long Beach State University's campus, the Walter Pyramid is a 25-year-old landmark and collegiate sports facility. More than 500 tons of hot-dip galvanized steel was used in the construction of the pyramid to protect the structure from the humid California air.
Nearly 100 projects were submitted to the 2019 Excellence in Hot-dip Galvanizing Awards. A panel of judges made up of architects and engineers evaluated the projects online to determine the winners. The 2019 winners highlight the need for strength and longevity of hot-dip galvanized steel.
Other winners include:
the Giant Squid in Aspen, Colorado, in the Artistic category;
the Cornell Tech Bloomberg Center and the 53 West 53rd MoMA Tower in New York, New York, in the Building & Architecture category;
the World's Largest Twizzle Spoon in Casey, Illinois, in the Civic Contribution category;
the Gathering Place ONEOK Boathouse in Tulsa, Oklahoma, in the Duplex Systems category;
the Silver Oak Winery in Healdsburg, California, in the Electrical, Utility & Communications category;
the Imperial Sugar Expansion in Port Wentworth, Georgia, in the Food & Agriculture category;
the Sibanye Stillwater Mining Operations in Nye, Montana, in the Industrial award category;
JJ's Waste & Recycling in Orlando, Florida, in the Original Equipment Manufacturing category;
the Roger Williams Park Zoo–Faces of the Rainforest in Providence, Rhode Island, in the Recreation & Entertainment category;
the Chicago CTA's 95th Street Red Line Terminal in Illinois, in the Transportation category; and
the U.S. Navy Port Security Barriers in Welch, West Virginia, in the 'Water & Marine' category.