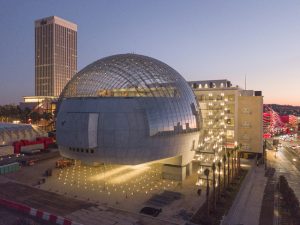 The Academy Museum of Motion Pictures in Los Angeles, California, is as unique as the industry it represents. One part of the museum—the sphere—has a glass rooftop dome where laminated glass with polyvinyl butyral (PVB) interlayers was used to provide superior structural capacity.
Designed by Renzo Piano Building Workshop (RPBW) in Genoa, Italy, the Academy Museum is housed in the historic May Company Building (now called the Saban Building). Glass bridges lead to the glass dome. The lower half of the sphere is the 1000-seat David Geffen Theater. The all-glass top half of the sphere also features a rooftop terrace under the stars.
The dome's design required careful attention to material selection and design detail that lasted several years. Knippers Helbig Advanced Engineering designed a unique 'shingle' system to accommodate the complex geometry and high load requirements.
The glass dome consists of a single-layered, braced steel structure covered in shingled glass panels—two panes per grid. They were manufactured with laminated glass with PVB interlayers and installed by Permasteelisa North America. While the inner glass pane is supported by an invisible, custom dead-load pin connection, the outer glass pane is supported by the interlayer—making a stiff interlayer essential. Due to the strength and rigidity of the laminated glass, the engineers found it met both requirements.
The glass edges are exposed to varying weather conditions. The laminated glass helps protect against delamination, preserving the dome's appearance. It was combined with other PVB interlayers to avoid any negative visual impact. This also contributes to the dome's clarity. Low-iron glass without a coating created the final effect.
Since Los Angeles is earthquake prone, the dome's superstructure is supported by base isolators, which allow the structure to move by up to 1 m (3 ft) during the swaying and racking in a seismic event.