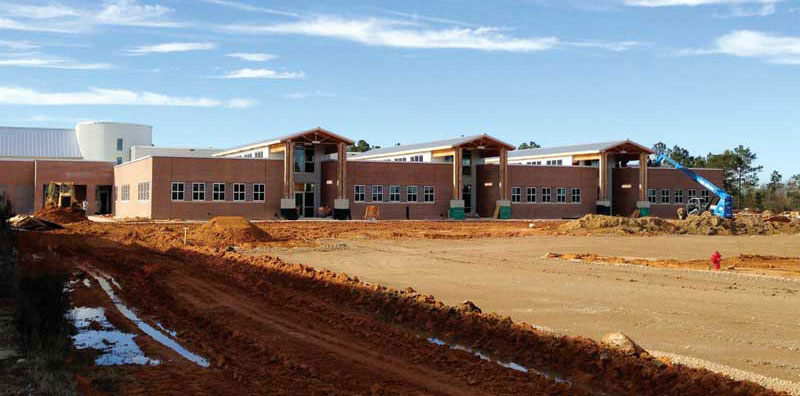 Architect Sally Zahner of Eley Guild Hardy Architects did not have the luxury of increased spending for environmentally friendly products in the new elementary school in Kiln, Mississippi. Similar to many public projects, the budget was tight and non-negotiable. Yet, through smart decisions and creative designs, Hancock Elementary is on track to achieve U.S. Green Building Council's (USGBC's) Leadership in Energy and Environmental Design (LEED) Gold certification upon its scheduled completion this April. Product benchmarking was one of the many tools Zahner used to ensure the sustainability and viability of the structure.
The 5946-m2 (64,000-sf) school replaces an existing 50-year-old structure riddled with mold and crumbling in the coastal environment. The project team saved funds by capitalizing on the existing site and recovering 94 percent of demolition waste.
The design incorporates 35 percent energy savings over the baseline standard, which should result in significant savings for the school district over the life of the building, especially compared to the original structure. This was achieved by keeping the building footprint compact, and therefore efficient, as well as through use of natural daylighting, daylight-harvesting lighting systems, and efficient HVAC systems.
A healthy learning environment is a priority for the school district, and all these measures were incorporated in pragmatic ways to ensure the new building is safe and conducive to learning. These strategies include:
proper construction scheduling and cleaning plans to minimize the introduction of pollutants during construction;

the use of low-volatile-organic compound (VOC) finishes throughout the school; and

incorporation of sound insulation and isolation to maintain quiet classroom environments.
Zahner employed product benchmarking tools for several category specifications. For example, analyses of different floorcoverings showed vinyl composite tile (VCT) and bio-based tile were comparable on cost and aesthetics, and were both local materials. However, bio-based tile was found to have significant environmental advantages with respect to recycled and renewable content. In comparing fly ash brick to traditional clay brick, Zahner again found comparable pricing and appearance, but selected the former for its higher recycled content, 84 percent lower carbon footprint, and 81 percent lower energy use.
With the brick, Zahner was able to use a published environmental product declaration (EPD). For the floorcoverings, she requested information from the manufacturer about raw material content and other environmental attributes. While this level of product benchmarking required some additional work, the resulting decisions provided for additional LEED credits.
Julie Rapoport, PhD, PE, LEED AP, is vice president of engineering at CalStar Products. She has more than a decade of experience in the fields of building technology, concrete products, and cementitious materials. Rapoport earned her PhD at Northwestern University (Evanston, Illinois) and her degrees in physics and English from Williams College (Williamstown, Massachusetts). She can be reached by e-mail at info@calstarproducts.com.