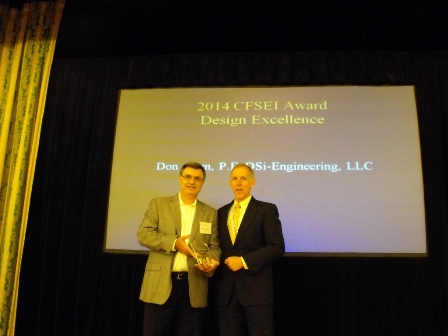 The Cold-formed Steel Engineers Institute (CFSEI) is accepting entries for its Design and Distinguished Service Awards next month.
The awards will recognize and honour projects and individuals who have impacted the cold-formed steel (CFS) industry. They will be judged on demonstrated excellence and achievement in the use of CFS based on design creativity, technical innovation, system efficiency and economy, and constructability.
Participants can enter in three categories:
project: small and large projects contracted in 2014 exemplifying excellence in structural design of new or renovated structures using CFS products;
product or software: any product or software development positively impacting a CFS project in 2014; and
distinguished service: an individual whose contributions through volunteered time, talent, and resources have impacted the CFS industry.
"This is a high-visibility opportunity for architects, specifiers, engineers, and others in the design and manufacturing communities to be recognized for their creative CFS design projects," said Maribeth Rizzuto, managing director of CFSEI. "Too often, we become focused on day-to-day activities and forget to stop and take time to recognize exceptional performance. This is a perfect way to not only recognize such exceptional achievement, but also to gain knowledge on how great designs in CFS can be achieved."
Winners will be announced at the CFSEI 2015 Expo taking place May 18 to 19 in Orlando, Florida. For further competition details, click here.
For more on CFS, read these articles in The Construction Specifier: