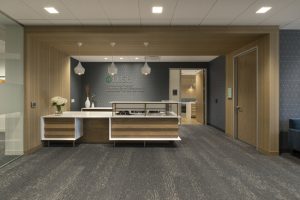 Architecture firm Chicago Design Network has completed the Road Home Program's latest space in Chicago, Illinois.
The Road Home Program is a nonprofit helping veterans face the challenges of life after deployment.
The 1749-m2 (18,830-sf) space embodies the organization's vision for leading innovative, patient-focused health care. By working closely with Road Home personnel, the firm created spaces tailored to the needs of veterans and staff.
"Working on Road Home projects has been a humbling experience," said Deborah Winchester Chicago Design Network principal. "The staff is devoted to helping veterans from all over the country, so we want to make sure that same level of passion and dedication is reflected in each space. We draw inspiration from nature to create comfortable, flexible spaces for veterans, their families, and staff to feel at ease throughout their time in each space."