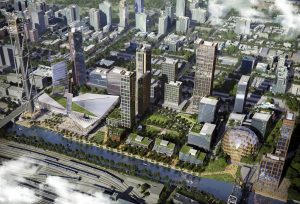 The Discovery Partners Institute (DPI) has secured a spot in in The 78, Chicago's newest tech-forward development. Led by the University of Illinois System, the 27,871 m2 (300,000 sf) research center will anchor the neighborhood's innovation district.
The 78 will transform 25 ha (62 acres) of undeveloped riverfront land into a vibrant downtown community, drawing inspiration from Chicago's existing 77 neighborhoods. It will expand the heart of Chicago southward and look to the future of innovation while embracing the city's rich history.
Approved for 1,207,739 m2 (13 million sf) of mixed-use space, The 78 will include the capacity for more than 20,000 onsite workers and incorporate multiple infrastructure improvements to support commuters and draw visitors, including a new pedestrian and bike-friendly road, the Wells-Wentworth Connector. It will also extend Chicago's famed Riverwalk with 0.8 km (0.5 mi) of entertainment-optimized riverfront space for visitors.
DPI's building is funded with a $235 million commitment from the State of Illinois, $23.5 million of which has been released thus far to support design and development. The Pritzker Foundation has also gifted $10 million to establish the Pritzker Tech Talent Labs at DPI. Other funders include the CME Group Foundation, Apple, and Google.
DPI will prepare young people—especially women and people of color—for careers in technology, fund research and development teams, and launch new ventures based on University of Illinois System research.
The interdisciplinary hub and magnet for technology investment is projected to break ground in 2023, with completion scheduled for 2026.