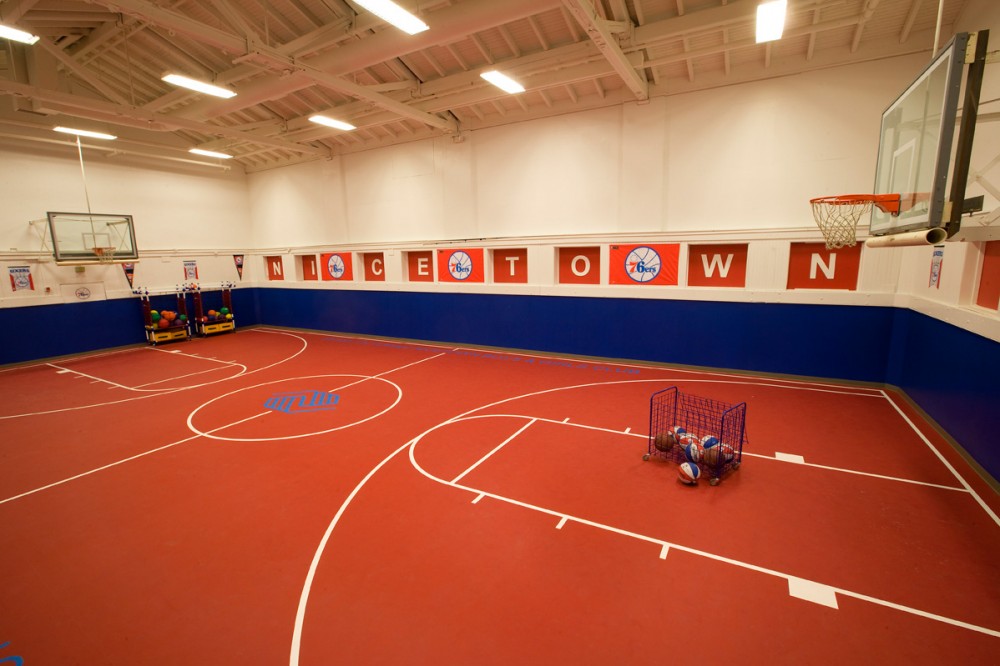 by John P. Aten
Functionality is the ultimate goal for athletic flooring, and high-performance assemblies can provide durability, shock absorption, acoustics, and aesthetics. Specifiers and designers should explore the various options based on individual projects.
Designers, architects, and specifiers have many questions to ask themselves before selecting facility floors. These include:
How much of the project's budget can be dedicated to flooring costs?
Is sustainability an important factor?
Is the project new construction or a refurbishment?
What are the primary and secondary uses—is it a single-use or multi-purpose floor?
According to its use, what are the key athletic floors properties (e.g. shock absorption, energy return [i.e. the energy returned to the athlete after impact], floor deformation, or ball rebound)?
What are the aesthetic goals for the space? Is it an ideal location to promote brand recognition?
Now produced from recycled tires, rubber flooring is a high-performance, sustainable material that is often specified for athletic facility floors. The recycled tires are ground with color chips before being combined with a bonding agent. With color consistent throughout the product, the top does not show wear like products with a veneer or thin wear layer.
Before the 1990s, earlier similar products had a strong odor and lacked aesthetic options. Now, recycled rubber is customizable, and meets current South Coast Air Quality Management District's (SCAQMD) volatile organic compounds (VOC) and indoor air quality (IAQ) standards.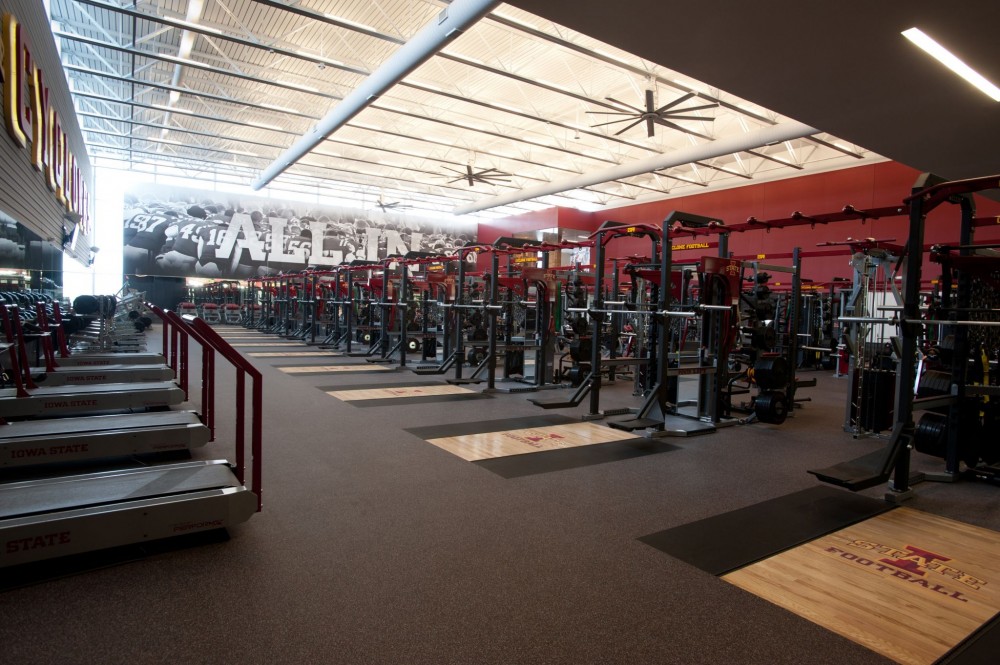 Benefits of rubber flooring
In addition to a long service life, recycled rubber flooring requires low maintenance of routine damp mopping with neutral pH detergent. Roll and sheet products can be made with a smooth bottom and molded tiles can be manufactured with a waffle bottom to provide optimal shock-absorption for space such as cardio or heavy free-weight areas.
The void created by the waffle bottom adds a level of air-cushioning to the surface. The material's density, along with the spring surface, is able to compress and then have a cushioning effect. The extra-thick, unique composite structure also provides durability.
Logos and custom color blends allow facilities to incorporate design and even targeted marketing. Produced using high-quality manufacturing standards, the rubber withstand a lot of abuse without losing performance capabilities. Customizable recycled rubber, made of 100 percent post-consumer content, offers aesthetic flexibility. Colleges will often employ team logos and school colors while athletic clubs can display their brand identity. Prefabricated for precision in density, thickness, and physical properties, its modular possibilities provide a range of functions as well as flexibility for various spaces.
For specifiers, recycled rubber flooring is an excellent choice for various areas of a facility. With the manufacturing easily producing both small and large batches, recycled rubber can be specified to fit a small locker room or a large arena.
Recycled rubber flooring uses 100 percent post-consumer tire rubber and post-industrial ethylene propylene diene monomer (EPDM) rubber in its manufacturing.
Flooring specification begins with determining the area's function. From multi-purpose areas to single-use spaces, performance—including such factors as the level of shock absorption, durability, maintenance, acoustics, aesthetics, and sustainability—is all decided by the desired function. Specifiers must also consider the wear and tear of the space, and choose a surface that provides the best biomechanics to minimize athletic injuries.
For all types of flooring, installation requires an understanding of various factors, including moisture prevention and vapor emissions. Prior to installation, thorough testing of the area must be done to ensure adhesives can properly bond the flooring to the concrete, which will minimize maintenance problems in the future. This testing can be done during the installation and should be conducted by the flooring contractor as certain products have different moisture and relative humidity (RH) specifications.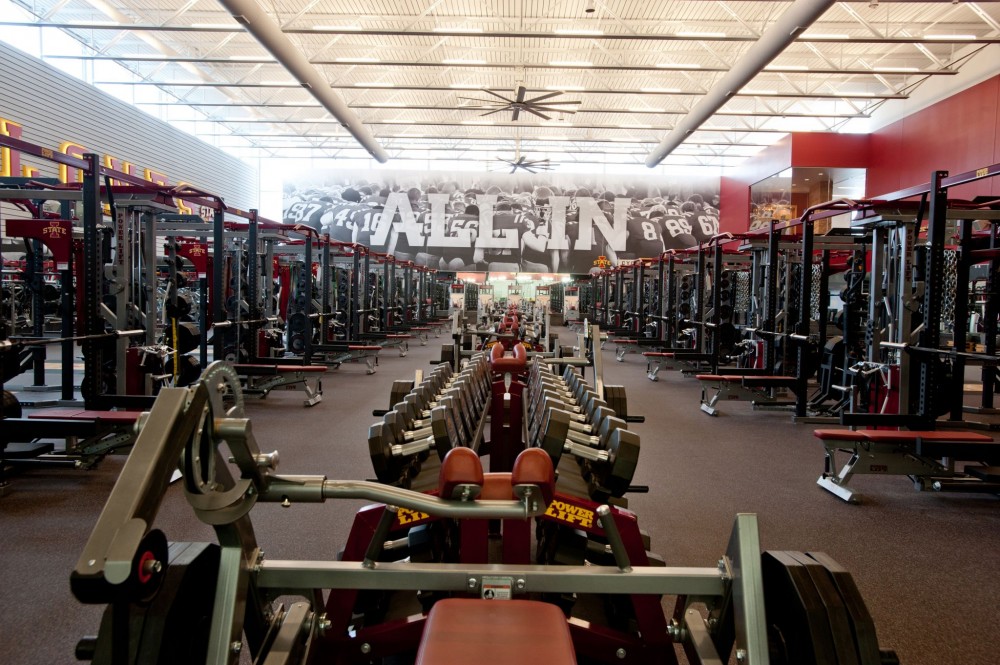 Sustainability and environmental concerns are becoming a standard part of the specification process. In a large space like a sports facility, this becomes even more important. When maintaining a healthy environment, product's volatile organic compounds (VOCs) and indoor air quality (IAQ) should be considered. For example, California has the strictest indoor air quality regulations for adhesives and building materials and products are third-party-tested to meet the state's standards.
By having the products third-party verified, certain emission levels are tested based on organic compounds and formaldehyde, and levels cannot be higher than the threshold. (Throughout the United States, most manufacturers aim to meet California levels.) Though their initial costs may be slightly higher than low cost floor alternatives, the benefits of choosing a product such as recycled rubber flooring are ten-fold.
Measuring the benefits
While it can be difficult to measure the benefits of each type of high-performance flooring, responsibly designed flooring can minimize sports injuries through shock absorption and provide a more enjoyable experience. If the floor is selected based on its intended use, relevant testing data can provide background on how it fits the project. Standardization of safety rulings can aid specifiers in choosing the right surface. Specific sports flooring testing methods are employed to guarantee requirements are met.
There are certain safety requirements everyone must abide by, but some of the test methods are specific to the facility. For example, some are looking for pure performance or aesthetics. Every owner comes to a project with a certain criteria, but tweaks the specifications to fit their facility.
ASTM F2772-11, Standard Specification for Athletic Performance Properties of Indoor Sports Floor Systems, measures various performance characteristics for building products. Flooring is evaluated on four criteria:
force reduction;
ball rebound;
vertical deflection; and
surface finish effect.
It is then classified into one of five performance levels. In order to meet the standards of ASTM F2772-11, a floor must maintain:
10 percent minimum shock absorption;
less than 3.5 mm (0.13 in.) vertical deformation;
minimum 90 percent ball rebound; and
between eight and 110 sliding effect value.

A plethora of options
Within the key sports flooring categories—namely vinyl, rubber, wood, and polyurethane—there are many divisions and price points. By knowing the intended use of the floor, specifiers can determine the ideal material based on the benefits.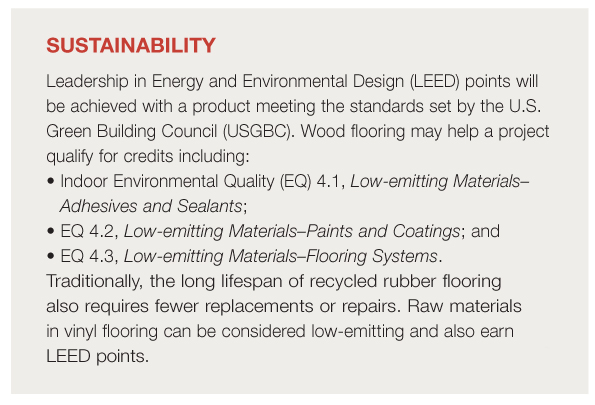 Depending on whether this is a new project or refurbishment also plays a role in the appropriate selection. Modular rubber flooring works well for refurbished projects because a lot of floor preparation is not required. It can be laid right over top the current underlayment while other adhered options may require more preparation.
Aside from rubber, vinyl flooring is also a resilient surface, offering performance and design. In fact, vinyl includes the option to be printed as 'wood grain.' Cost and other benefits have solidified vinyl's place in the athletic flooring world and the material is often selected for multi-purpose courts, institutional centers, gyms, and yoga studios.
A great option for hard and cushioned surfaces, rubber flooring comes in virgin sheet rubber and recycled rubber, which negotiates issues of sustainability and cost. Virgin sheet rubber has one of the highest price points, but also offers high performance, durability, and aesthetics.
Given the total cost of ownership, recycled rubber flooring as there are many options available based on use.. For example, in a weight room it is now a realistic option to use recycled rubber flooring. The benefits of employing rubber over carpeting include cleanliness in areas with heavy use. Instead of needing frequent, heavy-duty carpet cleaning, building owners can specify recycled rubber and know their upkeep costs will be lowered.
For a hard surface, wood flooring is a traditional choice, but its challenges include high maintenance costs and less flexibility. Wood flooring is specified by grade, thickness, and width.
Aesthetics and acoustics
Branding, team spirit, and loyalty are paramount in sporting facilities, and athletic directors and facility managers are looking to incorporate team logos and colors into the design. The hard surface of vinyl offers many possibilities, from painting to special printed effects. As discussed earlier, recycled rubber also has many customization and color options, ranging from standard black to numerous vibrant color blends in varying intensity to add color and visual effect.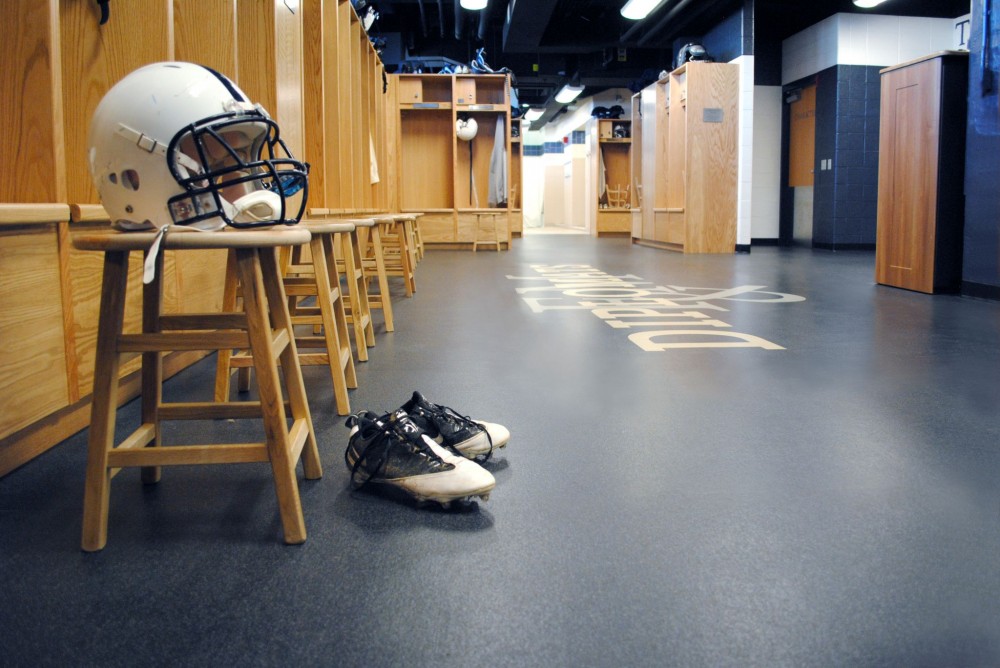 Acoustics are another concern for areas with heavy use. Vinyl and wood do little to filter sound. Recycled rubber, however, is a material that cuts acoustic output and produces a less noisy space. For areas that require quiet, recycled rubber is a great fit.
Noise absorption is achieved by minimizing vibrations from sound. Facilities with multiple levels benefit from reduced sound from upstairs. Impact noise (i.e. when something is dropped on the floor) produces energy resulting in loud disruptions as it vibrates through the floor assembly.
As rubber flooring is not completely a hard surface, the sound is absorbed. Citing the noise reduction coefficient (NRC) can prove the effectiveness of acoustical airborne sound control, and rubber flooring can also reduce the impact sound through transmission to another floor below, also known as impact insulation class (IIC).
Conclusion
For sports and athletic flooring, functionality is understandably the goal. Recycled rubber, suitable for many types of areas, is an excellent choice for all areas of an athletic facility, from cardio areas, weight rooms, spinning rooms, to entryways and corridors. High performance—defined by a great showing in the level of shock absorption, durability, maintenance, acoustics, aesthetics, and sustainability—can be attained by thoroughly knowing the options available.
John P. Aten is the vice-president of sales and marketing for Regupol America. He has spent 23 years in the floor covering business, with an emphasis on the sports and fitness segments. Aten's experience ranges from installing tracks to working closely on the specification of products for Big Ten athletic facilities. He can be reached at jpa@regupol.com.