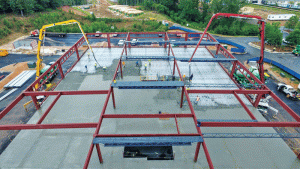 By Ken Harmon
Despite having well-documented performance capabilities, lightweight concrete often conjures several questions in the minds of specifiers. From its lead times to cost, unanswered questions can cause some professionals to steer away from the material, even when its use would enhance the building's design and support cost-savings to the project's bottom line. In addition to providing an overview of the development of lightweight concrete, this technical article answers three commonly asked questions to inform construction specifiers on what they can expect from the material in terms of application, performance, and overall cost.
How did lightweight concrete come to be?
When Stephen J. Hayde began experimenting with lightweight concrete aggregates made of expanded shale, clay, or slate (ESCS) in the early 1900s, he set out to solve a perennial industry problem: how to reduce the bloating of brick as it expands when subjected to high heat during the burning process. Hayde discovered both the temperature rise times and material composition play a role in determining if a brick will bloat or not. These findings contributed to a more efficient brick making process. However, Hayde's discoveries had a far wider reach than brick productions.
Hayde determined when shale, clay or slate is heated to approximately 1093 C (2000 F) during a rotary kiln process, the lightweight aggregate softens and forms bubbles which remain as pores when it cools. The pores within the vitrified ceramic aggregate particles result in a strong material with reduced density. When crushed, this material can be added to concrete mixes to reduce deadloads and improve the performance of concrete.