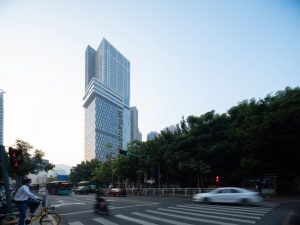 Designed by international studio CLOU architects, Shenzhen Shuiwan 1979 Life Plaza is nestled within the leafy streets neighboring Shekou's South Mountain, in Shenzhen, China. At the heart of this new development is a 'secret garden' floating over three floors of retail space that sits at the summit of a grand atrium and offers visitors a retreat from the hustle and bustle of the city.
Towers above the horizon of Hong Kong 
The 220-m (722-ft) tall Shenzhen Shuiwan 1979 complex is nestled between a network of tree-lined streets and directly connects to the Shuiwan subway station. The tower is designed as an interlocked stack of smaller boxes relating to the scale and diversity of today's Shekou. Gaps rising up between the boxes are filled with green terraces and public space from the raised retail podium's roof landscape. Halfway up the tower, between offices below and residences above, cantilevering terraces invite the neighborhood to its restaurants and bars, swimming pool, and art gallery. Meanwhile, public spaces also split up the building allowing a dialogue with its surrounding buildings of different scales.