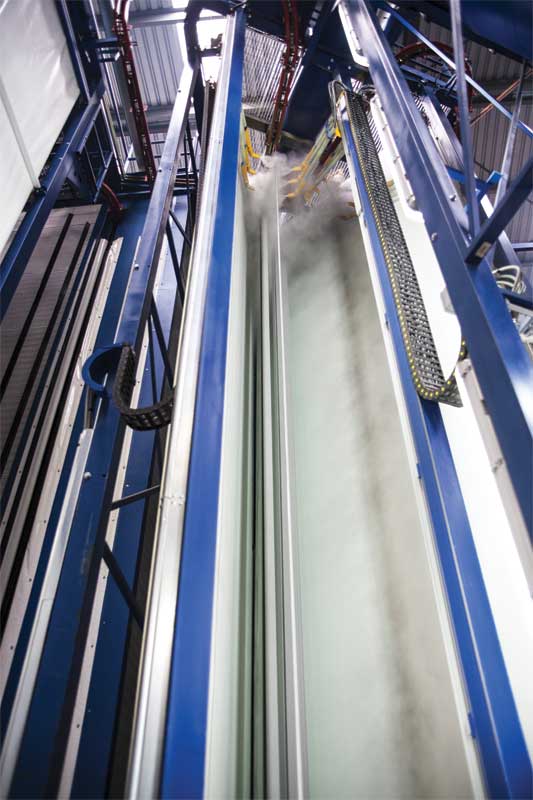 Grounding and maintenance
Proper maintenance of an extrusion coating line's racking system is critical. Coating buildup on hangers, hooks, and carts has an insulating effect and prevents proper grounding of the parts. An ungrounded part builds a negative charge, repelling the coating being applied and thereby reducing transfer efficiency, as well as causing low or uneven film coverage. Having a buildup of coating on the rack system is also hazardous. A coating needs to 'bleed' its electrical charge as soon as it hits the part it is targeting. If the charge cannot be bled, sparks may occur and potentially result in a flash fire.
The pathway a coating particle follows toward a substrate is predictable, but the final surface finish on architectural elements may not be if careful oversight of the coating process is not observed. Coatings that are applied using different methods—whether on coil lines, by hand spraying at low shear, or via turbo bells at high shear—vary in their transfer properties. Further, mica or metallic particles orient in different directions within the finished coating layer.
Ionization fields, coating ingredients, and other factors can be adjusted to direct a coating to its intended target and to ensure even coverage. Applicators should work with their sales or tech service representatives to determine the best application techniques for a given substrate. Designers can support this process by ensuring the coating supplier is supervising color application across all building components and is performing color matching at strategic points during the entire process. For example, if a given project requires a coating to appear uniform between various building elements, the supplier should ensure coil-coated materials are produced first because the application is not flexible in terms of adjusting color. Liquid coatings can then be produced and have their color adjusted during the spray application process to accomplish the best match in the final finish.
Ben Mitchell is the architectural aluminum coatings manager for AkzoNobel, a global paints and coatings company. He has a bachelor's degree in comprehensive science as well as an MBA from Urbana University in Ohio. Mitchell started at AkzoNobel in 1990 as a lab chemist formulating polyvinylidene fluoride (PVDF) coatings, then moved into product management. He can be reached at ben.mitchell@akzonobel.com.
Gabriel Morales-Sada resides in San Diego, California, and serves as architecture powder coatings marketing manager for AkzoNobel Paints and Coatings. Morales-Sada served as regional director for AkzoNobel and other global coatings companies from 1996 to 2014. He has gained strong market depth and technical expertise in 'shop-applied' architectural coatings. Morales-Sada earned his bachelor's degree in business administration at the Universidad Regiomontana A.C. in Mexico. He can be reached at gabriel.morales@akzonobel.com.