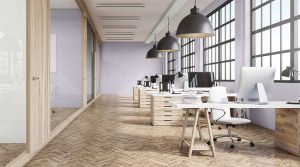 Flat
Typically less durable, flat and matte finishes offer zero to very low reflectance when dry and can hide imperfection in the substrate.
Satin
Slightly more durable, low gloss, low sheen, eg-shel, low lustre and velvet finishes offer low to medium reflectance when dry. Satin finishes can minimize glare in spaces with lots of lights.
Semi-gloss
More durable than satin and flat finishes, semi-gloss, pearl, and medium-luster finishes offer medium to low-high reflectance when dry. Semi-gloss offers a tough, washable, and stain-resistant finish.
Gloss
The most durable, gloss and high-gloss finishes offer high reflectance when dry, and these finishes accent architectural features and create depth perception.
Foundation of the paint system
Primers can play a critical role in the success of any paint system and help achieve the final topcoat color. The primer is a hard-working component that establishes the initial adhesion to the substrate. Certain primers are formulated to block stains, resist corrosion, assure adhesion, allow the finish coat to develop a full and consistent sheen and maintain a topcoat gloss, and act as surface filler.
For certain deep, vivid, or transparent colors, a gray primer achieves accurate color match in fewer coatings, better touchup, excellent hide, a more uniform color with less streaking, bolder and brighter colors, resulting in increased customer satisfaction.
It is common to see specifications calling for one coat of primer plus one or two coats of a topcoat, but that may fall short of what is needed to achieve a suitable hide and the desired finish with deep tints and accent colors. Instead, it is important to keep in mind deep and accent clear-base colors may require one to two more coats to achieve the proper hide. A primer is necessary because it helps contactors avoid applying additional coats of paint, saving them time and money and avoiding issues like uneven paint film or peeling.
Specifying paint
When specifying paint, make the process easier and ensure a quality outcome on the job by keeping in mind a few key points.
generic description – interior or exterior, sheen/gloss, and resin or solvent;
special characteristics – zero volatile organic compounds (VOCs), odor-eliminating technology, moisture, mold, and mildew resistance, rust-inhibitive, along with abrasion or impact resistance;
reference standards – measurable and comparable performance standards and ASTM for hardness, abrasion resistance, and adhesion;
basis of design – establishes an enforceable level of quality, helps with submittal review, delivers what is important to the owner, and lists specific manufacturer, make, and/or model.
To specify the right coating and color for the job, it is helpful to understand everything from the ingredients making a coating to how they affect the emotions and performance of a space. By following these tips, specifiers will ensure the project is done successfully and to their clients' expectations.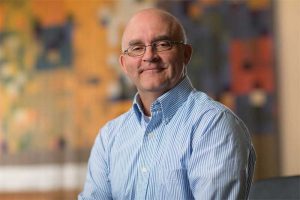 Rick Watson has been with Sherwin-Williams for more than 30 years. Watson began his career in 1988 in the management training program. Shortly thereafter, he became a professional coating sales representative in Fort Wayne, Indiana. Since then, Watson has progressed through a number of roles including store manager, product information team leader, product information manager, and recently, director of product information and technical services.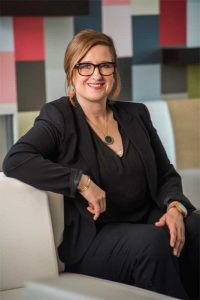 Sue Wadden began her career as a color expert at Sherwin Williams in 1998, as an interior designer and color marketing specialist. In January 2016, Wadden was named Sherwin-Williams' director of color marketing for the Paint Stores Group. Wadden is the resident expert on color for Sherwin-Williams, responsible for the company's overall viewpoint of color leadership.