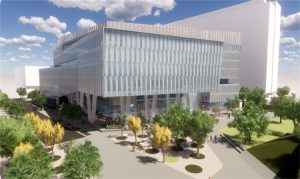 The Anschutz Health Sciences Building at the University of Colorado Anschutz Medical Campus in Aurora, Colorado, broke ground last month.
ZGF architects, in partnership with Anderson Mason Dale, is designing the seven-story, 36,317 m2 (390,914 sf) interdisciplinary building on a gateway site at the western edge of the campus. According to ZGF, the building will be an integral and dynamic focal point of the campus. It serves as a beacon, marking an entry point to the campus via the 'artwalk', a path connecting many campus buildings.
The building's sculptural form takes its cues from the carved mass of the surrounding mountains and canyons intrinsic to Colorado's regional identity and is expressed as a rich layering of plateaus and faces in the crystalline exterior palette of metal and glass.
Key design elements in the building include:
facilities for computational research and clinical trials, a simulation education hub, mental health clinics, a data center, faculty offices, and other educational spaces;
integration of exterior and interiors spaces with ledges and terraces offering spaces for collaboration and access to the outdoors;
occupant wellness and biophilia strategies; and
a sky-lit atrium serving as a central gathering space.
Designers used parametric modeling to analyze the building envelope, daylighting, and glazing performance and inform a compositional design approach combining performance and beauty into a truly integrated solution. A highly efficient heat recovery system will support the university's energy goals, resulting in an approximate 60 percent energy reduction versus existing buildings, and 20 percent energy cost savings against the current energy code.
The project is targeting Leadership in Energy and Environmental Design (LEED) Gold v4 and is scheduled for completion in 2021.