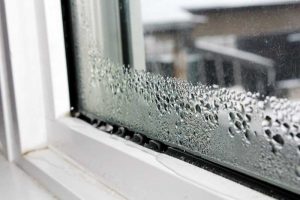 Condensation has confused and frustrated the construction industry for decades. It can occur on visible surfaces or within concealed assemblies, such as wall or roof cavities, and on just about any type of building material.
The issues associated with condensation vary and, if concealed, may go unnoticed until a 'musty' smell leads to removal of interior finishes, and the discovery of organic growth, wood decay, and/or corroded metals. Modern fenestration products made of moisture-resistant materials such as aluminum or painted steel may not corrode or decay, but adjacent ones, such as wood trim and paper-faced gypsum wallboard, are susceptible to moisture and will continue to deteriorate if condensation is unaddressed.
Condensation describes the phase change process by which water vapor turns into a liquid. A given volume of moist air will begin to undergo this process at a temperature known as the dewpoint. The advantage of understanding the dewpoint of a built environment is very simple: In buildings, condensation occurs on surfaces colder than the dewpoint temperature. This provides a clear point of design guidance—susceptible surfaces must be maintained above the dewpoint to remain dry in-service.
An article in our newest, sponsored e-book, Designing with Glass, discusses the steps to be taken to avoid condensation in buildings. To get your copy of this free, downloadable resource in either pdf or digital edition, visit www.constructionspecifier.com/ebook/agc-glass-north-america-designing-with-glass-e-book.