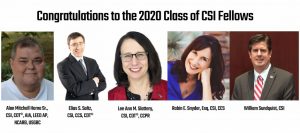 The CSI College of Fellows has selected five new members to the 2020 class. Each was nominated through a rigorous application process, and then elected by the Jury of Fellows for membership. Fellowship is one of the top two honors given by the Institute.
The 2020 Fellows are: Alan Mitchell Horne Sr., CSI, CDT, AIA, LEED AP, NCARB, USGBC, Elias S. Saltz, CSI, CCS, CDT, Lee Ann M. Slattery, CSI, CDT, CCPR, Robin E. Snyder, Esq, CSI, CCS, and William Sundquist, CSI.
The new fellows will be inducted during the virtual honors and awards ceremony taking place later this fall. 
"CSI has been a valuable resource for me from the early days of my career. I could always depend on CSI members nationwide to give me honest information for design and it is the one AEC industry organization that best integrates all the players involved."
– Alan Mitchell Horne, Sr., CSI, CDT, AIA, LEED AP, NCARB, USGBC
MCA Architecture, Inc. (retired)
CSI Greenville
"I first joined CSI when I became a specifier because I thought it would be a great way to network with and learn from professionals in my field. That was and is still true, but I also discovered CSI was a diverse community of people who came together with the similar goal of making design and construction better for everyone. Some of those members persuaded me to get more involved. Critically, once I was involved—volunteering, speaking and writing—I found that my contributions were being valued, amplified, and taken seriously by the most respected members in the onstitute. Through them and CSI, I found exciting professional work and high-profile volunteer opportunities, and lifelong friends."
-Elias S. Saltz, CSI, CCS, CDT
Conspectus, Inc.
CSI Chicago
"My involvement in CSI has been the most beneficial investment of time in advancing my career in the AEC industry. From earning the CDT and CCPR certifications, to volunteering on a variety of committees, to leadership positions within my local chapter, the region, and now the institute board, the network of friends and colleagues, and knowledge gained over the past 18 years have proven invaluable. CSI membership has provided me with many opportunities for personal and professional growth, and I am very honored to be chosen for inclusion in the 2020 Class of Fellows."
-Lee Ann Slattery, CSI, CCPR, CDT, LEED AP
ATAS International, Inc.
CSI Greater Lehigh Valley
"CSI is one of the most significant influences in making me the person I am today, and I am honored to receive this recognition. The knowledge provided by CSI has been instrumental to my professional growth and my ability to thrive as a specification consultant. I am also immensely grateful for the numerous relationships I have developed through CSI and I am thankful for the support from all my friends and colleagues!"
-Robin Snyder, Esq., CSI, CCS, CDT, SCIP
Spectra Consulting, LLC
CSI Las Vegas, CSI Phoenix
"My membership in CSI, and all the people I have met in this journey, is the reason I have the good fortune to achieve this honor. I graduated college with a degree in public relations and a pilot's license, but it was the industry knowledge I gained from the members of CSI that taught me the language of construction. CSI has been an anchor for me in my career and I am forever grateful."
-William Sundquist, CSI
Whitacre Greer
CSI Chattanooga