Connecticut revitalization project discussed in latest supplement
by nithya_caleb | March 27, 2020 4:30 pm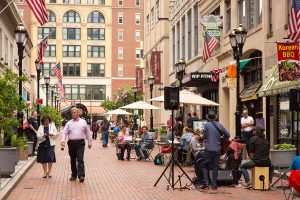 Pratt Street is a short (91 m [300 ft]) corridor in the central business district of Hartford, Connecticut. Throughout the mid-1800s, Pratt Street was a fashionable residential address for many of the city's merchants, bankers, and professional class. The early 20th century experienced a burst of construction.
After acting as Hartford's premier retail corridor for the better half of the 20th century, the street declined in the 1970s and '80s. By the mid-80s, Pratt Street gave little hint of its former glory.
At that time, Aetna Insurance Company was constructing a large building adjacent to Pratt Street at 242 Trumbull. As part of the development, the insurer agreed to preserve storefronts on the north side of Pratt, attaching them to the new building in what local architect Tyler Smith termed a "facadectomy." Aetna also agreed to rebuild the street and sidewalks. However, most importantly, Aetna agreed to maintain the street for 50 years. After the deal was struck with the city, Smith Edwards Architects of Hartford designed a fanciful streetscape of granite, brick, and ornamental lighting, which was constructed in 1989.
By the early 21st century, Pratt Street again fell into decline, due in part to Aetna renegotiating their maintenance commitment. In 2008, Aetna bought out its commitment with a $475,000 cheque to the city. By 2015, pavers were cracked and broken, sidewalks heaved, and any planting had long since died.
One of the biggest issues was the granite pavers were not of sufficient thickness to support truck traffic and the brutal New England freeze-thaw cycles. The infrastructure had deteriorated and aged to the point where it was a safety hazard.
Using the Aetna buyout monies, and other funds, the city committed to rehabilitating the area. They selected the design team of To Design Landscape Architects and Benesch Engineers to reimagine the streetscape.
The redesigned Pratt Street project in Hartford, Connecticut, incorporates many principals of New Urbanism, including walkability, connectivity, mixed uses, and quality architecture.
An article in our newest digital supplement is a case study on the Pratt Street restoration project. It appears along with a trio of articles on landscape architecture in Advances in Landscape Architecture, a free digital supplement. Click here[2] to read it.
Endnotes:
[Image]: https://www.constructionspecifier.com/publications/ds/202003/index.html
here: https://www.constructionspecifier.com/publications/ds/202003/index.html
Source URL: https://www.constructionspecifier.com/connecticut-revitalization-project-discussed-in-latest-supplement/
---