by Meggan Spehar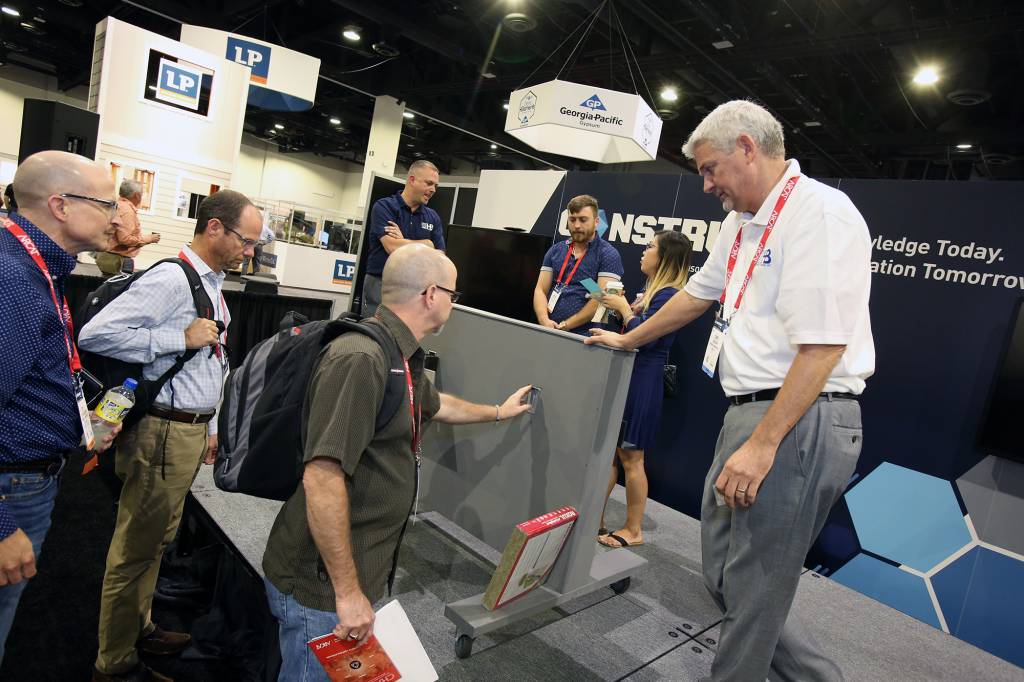 CONSTRUCT is a national event specifically designed to provide commercial building teams real-world, practical product and education solutions.
Taking place in Long Beach, California, from October 3 to 5, 2018, CONSTRUCT offers a variety of different learning opportunities for all architecture, engineering, and construction (AEC) disciplines including architects, designers, specifiers, contractors, project managers, product representatives, engineers, and building owners/managers. Attendees range from young professionals to those with more than 30 years of experience.
"The core of CONSTRUCT has always been our exceptional, accredited educational program," said Jennifer Hughes, senior education manager for CONSTRUCT. "With the help of our 2018 Education Advisory Council, we have created an exciting program that covers a wide range of topics addressing relevant industry challenges and focusing on solutions to improve the built environment."
This year's program features at least 50 sessions, directed by more than 70 industry leading professionals. Participants can earn up to 17 hours of continuing education units (CEU), from the following organizations: American Institute of Architects (AIA), Building Owners & Managers Institute (BOMI); International Code Council (ICC); National Association of the Remodeling Industry (NARI); and RCI Inc. Most sessions also qualify to fulfill Construction Specifications Institute (CSI) continuing education requirements.
CONSTRUCT is produced by Informa Exhibitions U.S. with CSI as one of the official partners.
An exciting new addition to the 2018 educational program is the Thought Leader sessions. Replacing the traditional keynote and "Game Changer" speakers, CONSTRUCT has updated the format to feature three leading, influential industry professionals covering key topics. Participants in the educational program can register for these featured sessions:
"The Digital Transformation of Specifications," led by Paul Doherty, president and CEO, The Digit Group
"Knowledge Transfer: An Ethical Responsibility for AEC Professionals," led by Brok Howard, technical account manager at dRofus Inc.
"Why Equity Matters for Everyone: A New Value Proposition for Design," led by Rosa Sheng, FAIA, principal and director of equity, diversity, and inclusion at SmithGroupJJR
New interactive formats
CONSTRUCT 2018 offers for the first time a "Power Panel" session. Titled "Millennials as Successors: Misconceptions & Realities – Hear it from them!", this unique session will feature four up-and-coming AEC professionals who will dispel some commonly held beliefs about their generation and what it wants for the future of the industry. The panel will feature Tiffany Coppock of Owens Corning; Cam Featherstonhaugh of Truexcullins Architecture + Interior Design and a CSI Board member; Kyhla Pollard of Juneau Construction; and Michael Riscica of Young Architect. The session will be moderated by another CSI Board member, Cherise Lakeside of LSW Architects and Let'sFixConstruction.com.
In addition to these new sessions, CONSTRUCT will be hosting a special interactive luncheon, "Real Talk About Challenges, Opportunities & Innovations," featuring the hosts of the Archispeak podcast, Evan Troxel, Neal Pann, and Cormac Phalen. Since 2012, these three have been podcasting their brand of real talk on everything from design, tools, and work/life balance to generational differences, mentoring, and job hunting. Attendees can join Troxel, Pann, and Phalen as they share their insights on what they see coming in 2019, including trends, new technologies, challenges, opportunities, and innovations in the profession.
Young professionals
CONSTRUCT will also include the fourth Young Professionals Day (YPD) program. This program is a unique opportunity for young professionals to come together with industry experts to enhance their careers through mentoring, networking, and education. The program was developed by Cherise Lakeside.
"I am incredibly honored to be leading my fourth YP Day at CONSTRUCT 2018," says Lakeside. "Helping our young professionals grow, connect, and set themselves apart in the industry is critical and rewarding beyond measure. This program is valuable for YPs in any area of the architecture, engineering, construction industry and facilitates connections and knowledge that will resonate for years to come."
Tours, expo, and social events
Attendees are also encouraged to step out of the classroom and participate in one of the technical tours. CONSTRUCT has arranged a number of informative tours offering a behind-the-scenes look at expansion, preservation, and renovation projects, as well as a historic overview of the city:
The Aquarium of the Pacific—Pacific Visions Expansion
Long Beach—The Charm of the Past Alive with a Vision for the Future
USC LA Memorial Coliseum Tour—Preservation and Renovation During Active Use
The tours provide CEUs and are offered on Wednesday, October 3.
Along with the educational program, attendees can explore the exhibit hall on Thursday, October 4, and Friday, October 5. Covering everything from air barriers and fire protection systems to coatings and new technologies, the expo will be packed with more than 150 exhibitors spanning 2601 m2 (28,000 sf). Exhibiting companies will showcase products and services designed for commercial building professionals who design, build, renovate, or operate in the built environment. During the two-day expo, attendees will be able to:
explore the latest products and services from top manufacturers;
experience live product demonstrations at the Demo Pavilion;
attend exhibitor-led educational sessions at the Learning Lounge;
enjoy afternoon refreshments during the daily show-floor happy hours; and
participate in the expo hall booth crawl for a chance to win great prizes.
In between learning and networking, attendees can take a break, relax, and have some fun during the social events. Help CONSTRUCT kick off the first day with the Welcome Reception at The Federal Bar. Have a drink with friends inside the old vault of a 1920s bank building that was converted into a speakeasy style restaurant, bar, and music venue. Close out the week with the famous CSI Night Out party. Enjoy live music while you voyage back in time on The Queen Mary, a historic art deco transatlantic ocean liner.
CONSTRUCT is a must-attend for any industry professional seeking to stay up to date on the latest trends, gain key insights from leading AEC influencers, and share knowledge among industry peers.
Make plans to attend and register today. CSI members can take advantage of exclusive rates.
Be sure to review the Schedule-at-a-Glance on page 62 for the complete event lineup. Download the CONSTRUCT mobile app (search "CONSTRUCT Show 2018" in an app store) to keep event information at your fingertips. Connect with CONSTRUCT on Facebook, Twitter, and LinkedIn to stay up-to-date on show news and updates, or visit www.constructshow.com.