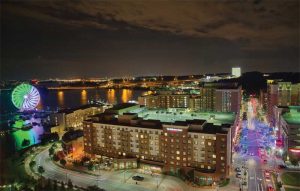 From October 9 to 11, CONSTRUCT will bring together architects, specifiers, engineers, designers, and other construction professionals to the Gaylord National Resort and Convention Center in National Harbor, Maryland. Attendees will have the opportunity to participate in educational sessions led by key industry experts, experience the latest in building products and services first-hand, and network with peers. The 63rd CSI Annual Convention, held in conjunction with CONSTRUCT, also gives the institute a chance to honor its membership and continue developing CSI's mission.
The show offers fun social events, technical tours, and influential speakers, as well as an accredited educational program, both in the classroom and on the show floor. The sessions will allow architecture, engineering, and construction (AEC) professionals to gain new insight, solve real-world challenges, and earn up to 18 continuing education units (CEUs) approved by the American Institute of Architects (AIA), Building Owners and Managers Institute (BOMI), Construction Specifications Institute (CSI), Green Business Certification Inc. (GBCI), International Code Council (ICC), National Association of the Remodeling Industry (NARI), and International Institute of Building Enclosure Consultants (IIBEC).
Over the next few pages, The Construction Specifier looks at the various professional development offerings while also providing attendees with a schedule, floor plan, and list of the many exhibitors coming to National Harbor. The magazine also explores the advantages of being part of the Emerging Professionals (EP) Program, for participants 35 and under. Make your plans to attend the premier conference and expo for commercial AEC professionals. Register today online at www.CONSTRUCTshow.com.
WEDNESDAY, OCTOBER 9
8:00 a.m.−9:00 a.m.
WE01−Discipline Roles and Project Goals: How Do I Fit In?
Mitch Miller
In this session, the primary roles of the owner, architect, contractor, consultants, and product representatives will be identified according to the contracts and contract documents, complete with what their objectives are throughout the various stages of the building from concept through commissioning and operation.
WE02−Specifying for Annual Fire Door Inspections
Laura Frye
As fire and egress door inspections become more and more prevalent, especially in healthcare occupancies, facilities must be armed with the material they need to perform these annual inspections. This should begin with the specification so clients can be prepared when the authority having jurisdiction (AHJ) comes knocking.
WE03−Deconstructing the Wall: A Methodology for Masonry Wall Design
Scott Conwell
This session takes a detailed look at the decision-making process for masonry walls in the pre- and early design stages. Participants will learn a design approach that quickly and systematically takes them through a series of micro-decisions on a small number (eight or fewer) of wall sub-assemblies, resulting in a well-informed system design.
WE04−Government versus Commercial Construction Contracts and Specifications: Cross-pollinating Best Practices
Joseph Scarpa and Elias Saltz
In this session, learn where to find commercial product and government performance specifications, sorted by CSI MasterFormat. Uncover buried pitfalls in the blind use of guidelines and specifications standards. Discover the contract compliance tools related to quality assurance and control, sustainability, facilities criteria, healthcare construction, architecture, and engineering.
WE05−Design for Inclusivity: ADA, Universal Design, and the Built Environment
Charles Hendricks
The Americans with Disabilities Act (ADA) design guidelines are a minimum standard and often do not address inclusivity. Universal design focuses on inclusivity with seven basic principles. This course will dig into the differences between ADA and universal design and how both can be incorporated into a commercial facility.