Construction begins on new Apple campus in Austin
December 3, 2019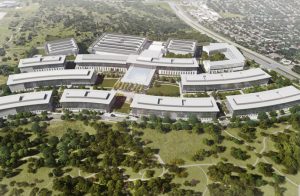 Apple Inc.[2] has broken ground on its new $1 billion, 278,709-m2 (3-million sf) campus in north Austin, Texas. The campus will initially house 5000 employees and is expected to open in 2022.
"With the construction of our new campus in Austin now underway, Apple is deepening our close bond with the city and the talented and diverse workforce that calls it home," said Tim Cook, Apple's CEO.
Apple is partnering with Austin-based Bartlett Tree Experts[3] to preserve and increase the diversity of native trees on the 54-ha (133-acre) property. Thousands of tree varieties native to Texas are planned for the campus.
The site will also be designed to maximize green space, with landscaping covering over 60 percent of the campus, including a 20-ha (50-acre) nature and wildlife preserve that will be open to the public. The new Austin campus will run on 100 percent renewable energy, including from solar power generated onsite.
Endnotes:
[Image]: https://www.constructionspecifier.com/wp-content/uploads/2019/12/Apple_Austin-Campus_112019_big.jpg.medium.jpg
Apple Inc.: https://www.apple.com/
Bartlett Tree Experts: https://www.bartlett.com/
Source URL: https://www.constructionspecifier.com/construction-begins-on-new-apple-campus-in-austin/
---