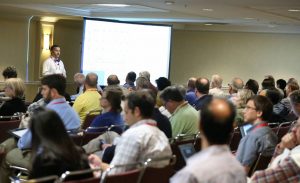 CONSTRUCT 2019 will be held at the Gaylord National Resort and Convention Center in National Harbor, Maryland, from October 9 to 11.
CONSTRUCT brings together the commercial architecture, engineering, and construction (AEC) industry to connect in collaborative spaces to share best practices, explore innovative projects, and learn the latest in commercial construction design and processes.
The 2019 event has several new show features to enhance connections and engagement.
Education networking lounge
This lounge will provide attendees with a place to continue conversations with educational speakers, meet up with colleagues, or just sit and relax while waiting for their next session.
Product rep university program
This is designed to meet the needs of manufacturer's representatives of architectural building products as integral members of the project team.  The program features a full day of education to help participants stay up-to-date on current trends and refine their interactions and relationships with design professionals.
Workshop studio
Exhibitors will host intimate workshop sessions on the show floor that are designed to provide attendees with firsthand product knowledge and usable education to assist in their everyday work environment.
Coffee talk lounge
Attendees can work together with peers to tackle challenges and solve problems in an open environment. This collaborative space on the show floor will feature CONSTRUCT speakers hosting mini educational chat sessions on trending topics.
Demo and learning theater
Attendees will get a chance to experience some of the latest products and services firsthand through live demos from exhibitors. Key industry companies will provide educational solutions for challenges the AEC community faces today.
Updated show hours
To maximize time for both the educational program and show floor activities, the hours for CONSTRUCT have changed to ensure education and exhibit hall hours do not overlap.
"Each year we look to enhance CONSTRUCT for our attendees and exhibitors," said Douglas Lugo, CONSTRUCT show director. "The new show features provide additional ways AEC communities can connect and collaborate. Face-to-face engagement is vital to the success of the industry and CONSTRUCT is the platform for continued collaborative learning."
This year's educational program includes a line-up of influential industry speakers. Some of the featured speakers include Joseph Lstiburek, PhD, Paul Doherty, Beth Stroshane, Marc Chavez, Lane Beougher, and Cherise Lakeside, as well as over 65 other thought leaders and industry experts. Those participating in education at CONSTRUCT can earn more than 18 hours of continuing education units (CEUs) from American Institute of Architects (AIA), Building Owners & Managers Institute (BOMI), Construction Specifications Institute (CSI), Green Building Certification Institute (GBCI), International Institute of Building Enclosure Consultants (IIBEC), International Code Council (ICC), and/or National Association of the Remodeling Industry (NARI).
"We are very excited about our education program this year, as we offer a very diverse program with speakers from various backgrounds and years of experience, not just your industry veterans, but the up and coming game changers as well." said Jennifer Hughes, senior education manager for CONSTRUCT. "Participants can explore solutions-based topics from roofing to rainscreens, construction contracts to codes and much, much more."
Additionally, CSI will host their annual meetings and events at CONSTRUCT. CSI regional chapters will be able to connect during their annual caucuses, and CSI members can attend the annual business meeting general session. During the CSI Honors and Awards Ceremony, awards for Outstanding Chapter Commendations, Distinguished Membership, and investiture of new CSI Fellows will take place. CSI will also host their annual CSI Night Out event.
Click here for more information, or to register.