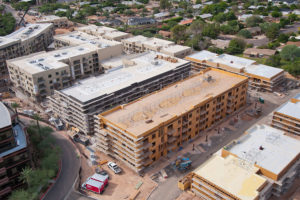 by Kenneth E. Bland, PE
Ensuring the safety of the built environment is a top priority for the American Wood Council (AWC) and its industry partners because a few high-profile fires in recent years have highlighted the need for increased protection of buildings during construction. When it comes to fire safety, wood has proven to be a strong and viable choice for designers.
According to the U.S. Census Bureau, approximately 86 percent of multifamily buildings were constructed using wood framing from 2009 to 2016. Today, innovative products and increasing recognition of wood's overall safety, cost-effectiveness, versatility, and light carbon footprint are driving its use.
Though less than one percent of building fires occur during the construction stage, those that do happen can result in significant financial losses and may require intensive fire service response, straining municipal resources. This is based on a study by the Federal Emergency Management Agency (FEMA) and the National Fire Protection Association (NFPA).
Most construction fires are preventable when proper safety precautions are taken. Incidents occur when required elements (e.g. fire-containing gypsum board, fire doors, smoke alarms, and sprinklers) have not been employed or are not yet commissioned and operating. In fact, fire departments are called to control fires in non-sprinklered buildings almost three times more often than in sprinkler-protected structures. Fires occurring in the latter are typically smaller, with almost 97 percent of them contained to the room of origin.
With this in mind, the International Building Code (IBC) Chapter 33, "Safeguards During Construction," and the International Fire Code (IFC) provide safety precautions and requirements for fire during construction, including:
access to fire extinguishers (one portable fire extinguisher shall be placed at each stairway on all floor levels with combustible materials);
maintaining means of egress (means of egress must be maintained during construction, demolition, remodeling, or alterations and additions to the building);
availability of standpipes (in buildings required to have standpipes—water supply piping included to allow delivery of water to sprinklers and fire hoses on each floor—not less than one standpipe shall be available during construction for fire department use); and
commissioning of sprinkler system (the system must be tested and approved before the certificate of occupancy is awarded).
Additionally, the International Code Council (ICC) approved a code change in the 2018 edition of IBC to address construction fire safety during non-work hours. Building and fire officials can require round-the-clock fire watch for construction exceeding 13 m (40 ft) above grade.
AWC has also joined forces with several fire prevention and code organizations on important initiatives such as:
improving public and firefighter safety;
reducing the occurrence of fires in buildings under construction, alteration, or demolition; and
educating industry professionals on fire safety facts and best practices.
Construction fire safety manuals
In partnership with the consulting firm Fireforceone, AWC co-developed a set of manuals, training videos, and a dedicated website to educate and inform building designers, developers, and fire safety professionals on best practices for preventing fires, reducing losses, and ensuring fire safety at construction sites.
The training materials are the result of extensive research into the experiences of the construction and fire protection industry over the last 35 years, including review by a working group of international stakeholders with diverse perspectives on construction site fire safety. The end goal was to help address growing concerns about fires during the construction phase, when buildings are most vulnerable, and provide common best practices.
Basic fire precautions during construction of large buildings
A number of specific topics were covered in the manuals. Basic fire precautions apply to the design and planning stages, as well as the actual construction of buildings. Many hazards can be addressed before they become an issue by adoption of best practices.
Hot work during construction
The manual also describes best management practices for hot work, which is likely to reduce the occurrence of large-loss fires more than any other specific activity for buildings under construction. Hot work activities have an element of heat involved in the process and include cutting, welding, grinding, thermal spraying, thawing pipe, or installation of a torch-applied roof system. Accountability and oversight must be in place to ensure best practices are implemented and working, and that all procedures are being followed.
The fire department's role
This section of the manual outlines pre-fire planning for large building projects, and prepares tactics and strategy for a fire if it occurs. Many fire departments have limited experience in the planning for and responding to fires at complex sites.
Construction Fire Safety Coalition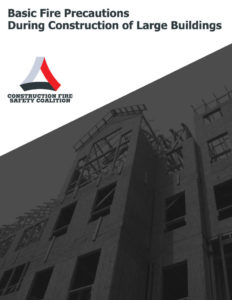 In response to recent fires in Massachusetts, California, and North Carolina, AWC has joined forces with fire prevention and code organizations to form a Construction Fire Safety Coalition dedicated to reducing the frequency and/or severity of fires in buildings under construction, alteration, or demolition. The coalition was launched in October, ahead of the NFPA's National Fire Prevention Week.
Charter members include:
To ensure the nation's firefighters, building code officials, and developers are equipped with accurate and up-to-date information, the coalition will encourage and facilitate knowledge and resource sharing, aligning on best management practices, and providing educational opportunities to stakeholders working to keep their communities safe. The associated website offers a variety of educational materials—from checklists and videos to guidelines for creating site-specific fire safety plans—with an emphasis on the accountability of all stakeholders in the process.
The Construction Fire Safety Coalition is also open to any interested person or organization wishing to help reduce the frequency and severity of construction fires. To explore partnership opportunities, individuals may contact partners@constructionfiresafety.org.
Additionally, AWC has partnered with ICC and NFPA on a 90-minute webinar titled "Fire Protection During Construction." The webinar introduced many fire-related hazards existing on a construction site, helped identify IBC, IFC, and NFPA requirements for fire protection safeguards during construction, and shared simple strategies for fire safety.
The presentation was informative for construction professionals tasked with developing fire plans and helped raise awareness of existing resources for training, education, and mitigation. The full webinar is available for viewing here.
Conclusion
Fire safety in buildings under construction continues to be a timely and relevant topic, in large part due to the significant impacts large construction fires have on businesses, families, and communities. The increasing frequency and consequence of construction fires is attracting more attention in both public and private sectors, which has led to important updates to U.S. building codes and standards and the development of resources to promote construction fire safety best practices. With more knowledge and resource sharing, everyone can realize the value of a fire-safe construction site.
Kenneth E. Bland, PE, is vice-president of codes and regulations at the American Wood Council (AWC). Prior to joining AWC in 1988, he served in building code administration and enforcement. Bland is a member of the Society of Fire Protection Engineers (SFPE), past chair of the International Code Council's (ICC's) industry advisory committee, and member of numerous standards development committees in various capacities. He holds degrees in architectural engineering in structures and fire protection engineering. Bland also served on the Green Building Initiative (GBI) American National Standards Institute (ANSI) committee, which developed the first edition of the Green Globes Standard, and the National Association of Home Builders (NAHB) National Green Building Standard committee in 2012 and 2015. He can be reached at kbland@awc.org.