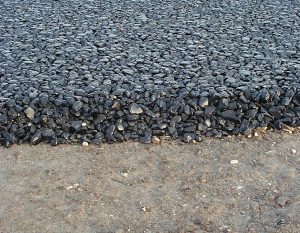 One of the top 25 construction companies in the U.S., Granite Construction Inc., has joined the National Asphalt Pavement Association (NAPA)'s The Road Forward initiative to build net-zero asphalt pavements by 2050.
A 23-year NAPA member, full-suite civil construction provider, and producer of construction materials, Granite has been involved in the development of The Road Forward since its inception in January 2022. Granite's sustainability manager, Raven Adams, serves as vice chair of NAPA's Sustainability Committee and represented Granite with fellow asphalt producers on NAPA's Climate Stewardship Task Force, which developed The Road Forward goals.
"The Road Forward represents a comprehensive effort to guide our industry in adapting to the challenges presented by climate change," said Adams. "How we rise to these challenges will define this generation of business leaders, and Granite intends to be at the forefront."
Granite has made significant progress in its sustainability efforts. Last year, 20 of Granite's asphalt plants were recognized with NAPA Diamond Achievement Sustainable Commendations, which assess the social, economic, and environmental impacts of an asphalt production facility. These commendations are a step above NAPA's Diamond Achievement Commendation Program, which documents and recognizes the use of best practices for asphalt plant operations, terminal operations, asphalt production, and paving.
Other 2021 highlights for the company include 26 NAPA Quality in Construction Awards, 1.03 million tons of waste diverted from landfills by recycling asphalt pavements, and investments of $1.85 million in energy efficiency improvements. In addition, Granite aligned its annual Sustainability Reports with standard frameworks (GRI, SASB, and TCFD) and developed a climate target to reduce scope 1 greenhouse gas emissions by 25 per cent by 2030 compared to 2020.