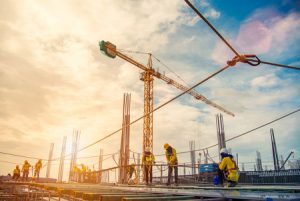 A new report by Marcum LLP says construction was a bright spot in the national labor market, despite financial turmoil, recessionary expectations, and a government shutdown in the fourth quarter of last year.
According to 2018 Marcum JOLTS Analysis, between January 2018 and January 2019, construction accounted for 12.5 percent or 338,000 of the total 2.7 million net new jobs created year-over-year. The ratio is even higher on a monthly basis in the early weeks of 2019, with construction adding more than 17 percent of all net new positions in January.
"In January, the nation added another 304,000 net new jobs, blowing through a consensus estimate of around 170,000 new positions," said Anirban Basu, Marcum's chief construction economist. "Construction was one of the big winners, single-handedly adding 52,000 net new jobs. Industry unemployment stood at 6.5 percent in January, a bit lower than it was a year earlier."
In December 2018, the sector added another 88,000 available, unfilled jobs, implying that filling available positions will become even more challenging in 2019.
Basu noted, while the number of job openings in construction has surged, the number of net hires has not changed.
"Interestingly, despite significant job creation, the nation's construction unemployment rate ballooned from 4.5 percent in October to 7.8 percent in February," Basu said. "Much of this increase is seasonal, but there is some anecdotal evidence suggesting that it is at least partially due to renewed confidence among job-seekers in construction's capacity to generate stable employment."