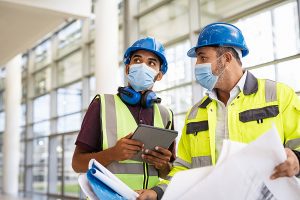 Construction Safety Week, an annual industry-wide education and awareness event, has officially launched at construction sites across the U.S.
As pandemic restrictions have eased, more in-person gatherings will be held from May 2 to 6, including celebrations near O'Hare Airport in Chicago, Illinois, and Centene Stadium in St. Louis, Missouri.
This year's theme is "Connected. Supported. Safe," which reflects the enduring connection workers and leaders have to each other across the industry. Being connected builds strength, as it means individual workers are not alone in establishing a stronger, safer industry and creating a safe, supportive environment for everyone. The event also focuses on mental health issues among workers.
New for this year, all contractors and workers are encouraged to begin using safety helmets with an integrated chinstrap and lateral protection. This simple change can significantly decrease the frequency and severity of traumatic brain injuries (TBIs).
Construction Safety Week leaders invite all construction companies to participate in this important industry initiative. Firms can visit ConstructionSafetyWeek.com for free planning resources, including:
Jobsite banners, presentation templates, and a planning playbook.
Daily topics, videos, and Toolbox Talks.
Toolkits to help promote Safety Week, internally and externally.
A Mental Wellness Field Guide to print and distribute on jobsites.
Activities for workers and their families to do at home.
Materials translated into Spanish and French.
Industry workers, families, and companies are also welcome to share a photo representing how they stay connected, supported, and safe every day, and submit a short story for a chance to win $1000.