Construction underway for Jersey City's Journal Squared
by sadia_badhon | December 13, 2018 10:22 am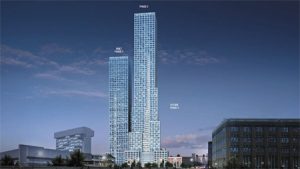 Vertical construction is underway for Journal Squared[2], a luxury high-rise building project in Jersey City. The tower will stand at 71 stories and provide 1672 m2 (18,000 sf) of retail space with a gross of almost 92,903 m2 (1 million sf).
The building is the second in a three-tower complex that will feature 704 residential units. Dresdner Robin[3] is providing environmental investigation, planning, civil engineering, and survey services for the project.
Hollwich Kushner[4] (HWKN) will be doing the architectural design, with Handel Architects[5] as the architect of record. Melillo+Bauer Associates[6] are providing landscape architecture services for the ground-level and rooftop areas.
"Journal Squared helps reinvigorate this section of Jersey City. It stands as an immense project that will help transform the New Jersey skyline, and bring residents and retail to a completely reimagined destination," said Jonathan Kushner, president of Kushner Real Estate[7] (KRE) Group, developers of the project. "Dresdner Robin's work on the project has been immensely helpful as it has moved through various stages."
Melillo+Bauer Associates worked with the Port Authority on the design of the streetscape, addressing vehicular circulation and safety concerns. The result is a multi-functional space serving as a main pedestrian entrance while also providing space for community events.
Endnotes:
[Image]: https://www.constructionspecifier.com/wp-content/uploads/2018/12/Opener-17.jpg
Journal Squared: https://journalsquared.com/
Dresdner Robin: https://www.dresdnerrobin.com/
Hollwich Kushner: https://hwkn.com/about/
Handel Architects: https://handelarchitects.com/
Melillo+Bauer Associates: https://www.melilloandbauer.com/
Kushner Real Estate: https://www.thekregroup.com/
Source URL: https://www.constructionspecifier.com/construction-underway-for-jersey-citys-journal-squared/
---