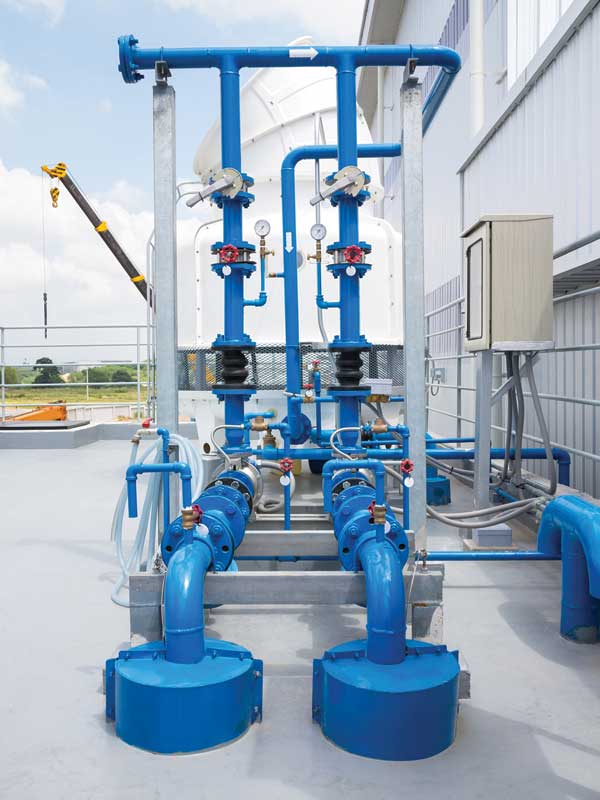 Acoustical walls must be continuous to be effective; gaps at the bottom of the wall or along the wall significantly reduce the amount of attenuation the wall provides. Since the acoustical attenuation achievable with a barrier is limited by sound that bends over the top of the wall, the surface density of an acoustical wall can be as light as 10 to 20 kg/m2 (2 to 4 lb/sf)—depending on its height—without sacrificing the acoustical benefit. Often, code requirements for wind and seismic loads require the wall to be more substantial than is required acoustically.
If there is an acoustically hard surface opposite the acoustical wall, or if the hard surface wall surrounds the equipment, there is the potential of creating a 'canyon effect.' The wall refocuses the sound energy toward the opposite structure, which, in turn, refocuses the sound energy back toward the acoustical wall. Since the sound energy has no place to escape, it bounces between the two structures until it reaches the top of the wall, allowing the same amount of acoustical energy to escape—in other words, the wall's benefit is eliminated.
To avoid this problem, it is important to use an acoustically absorptive surface on the wall facing the mechanical equipment whenever there is another structure opposite. The surface should have a minimum Noise Reduction Coefficient (NRC) of 0.90, meaning 90 percent of the sound energy exposed to the surface is absorbed by the finish, and only 10 percent is reflected back off the wall. For most materials, this absorption specification requires a thickness of at least 50 mm (2 in.).
Careful planning and evaluation of the project site during design is the best method of ensuring the mechanical equipment does not adversely impact the community noise levels. By selecting the appropriate mechanical system and locating noisier mechanical components away from noise-sensitive receptors, the potentially significant cost of noise mitigation can be avoided. Specifying noise limits for each major mechanical piece of equipment can ensure quality equipment is installed on the project that will not require noise remediation after construction.
Aaron Bétit is a senior consultant in architectural acoustics and mechanical systems at Acentech, a multi-disciplinary acoustics, audiovisual systems, IT and security design, and vibration consulting firm. Based out of its Los Angeles office, his acoustical experience includes consulting during ground-up design, as well as providing diagnostic advice for existing facilities and structures with acoustical complications. Bétit's environmental noise expertise encompasses acoustical design and computer modeling of power plants, roadways, warning sirens, and water treatment plants. His acoustical consulting services have been used on a number of landmark buildings in the Southern California community including healthcare facilities and laboratories, along with commercial, residential, and mixed-use towers. Bétit can be reached at abetit@acentech.com.