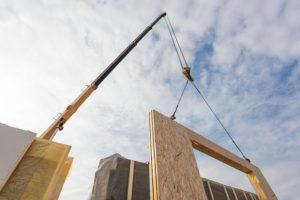 Professionals interested in learning about the benefits of offsite construction—such as time and cost savings, reduced waste, and improved safety—can do so at the Offsite Construction Expo (OSCE) this fall. The exhibition will be coming to the Pennsylvania Convention Center on October 26, then continuing to Texas's Hyatt Regency Dallas for November 15.
The event's exhibit hall will be open from 8 a.m. to 5 p.m., with hourly case study presentations on the show floor. This year's topics have yet to be announced, but last year's included:
"LEED-certified Modular Dormitories that Make the Grade," presented by Matthew O'Brien, AIA, LEED AP, of OBRIEN Architecture & Energy;
"Getting the Most Out of Offsite Construction: Implementation Strategies and Guidelines," presented by Laurie Robert, LEED AP, of NRB Inc.;
"Using Shipping Containers as Building Blocks," presented by Steve Armstrong of SG Blocks; and
"Bathroom Pods = Better Materials, Less Waste, Faster Construction," presented by Kent Hodson of PIVOTek.
Aside from these presentations, the convention also offers attractions such as an intimate 'coffee with exhibitors' morning event, another networking lunch, and special events. Registration for both Dallas and Philadelphia is open.