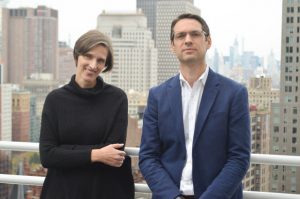 Architecture and urban design firm Cooper Robertson has promoted Erin Flynn R.A., LEED AP, and Mike Aziz, AIA, LEED AP, as partners.
With these appointments to its senior team, Cooper Robertson seeks to empower a new generation of emerging leaders.
Flynn and Aziz have led the firm's involvement in publications, lectures, and projects such as the ongoing PROJECT NY smart city mapping platform, the American Institute of Architects (AIA) New York Chapter's Net-zero Neighborhoods initiative, and emerging research into new universal design strategies for cultural facilities.
"We are proud to say  Erin Flynn and Mike Aziz represent the next generation of leadership at Cooper Robertson," said Donald Clinton, AIA, MRAIC, LEED AP, managing partner at Cooper Robertson. "Respected by clients, peers, and colleagues, they are deeply experienced practitioners and mentors, able to meld technical expertise and managerial skill with a spirit of innovation that pushes our work forward in meaningful ways."