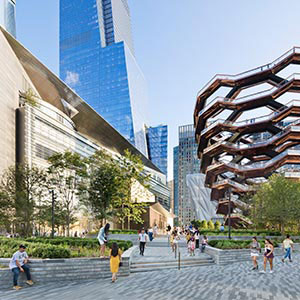 The Council on Tall Buildings and Urban Habitat (CTBUH) has announced its Urban Habitat Award of Excellence Winners for the CTBUH 2021 Awards Program. The winning projects represent the very best projects synthesizing tall building design and quality of the surrounding urban environment, at two different scales: District/Master Plan and Single Site.
The Award of Excellence Winners will now move on to the next stage of the CTBUH Awards Program, in which the owner/developers and design/engineer teams for the projects will compete in the CTBUH 2021 Tall + Urban Innovation Conference for "Best in Category" distinctions.
The 2021 Tall + Urban Innovation Conference will take place online on a virtual portal from May 18 to 20.
Here are the Urban Habitat – District/Master Plan Scale winners:
Darling Square (Sydney, Australia);
Hudson Yards (New York City);
Lincoln Common (Chicago);
Pudong Financial Plaza Tower 1 (Shanghai, China); and
Poly Greenland Plaza (Shanghai, China).
The Urban Habitat – Single Site Scale winners are:
18 Robinson (Singapore) and Pastel (Istanbul, Turkey);
Assuta Bauhaus Village (Tel Aviv, Israel);
DUO (Singapore);
Taipei Nanshan Plaza (Taipei, Taiwan);
Trinity (Paris, France); and
Victoria Dockside (Hong Kong, China).