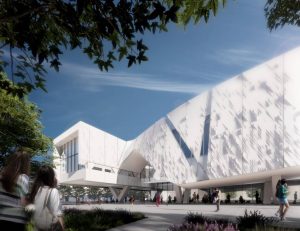 Construction has begun on the University of Texas at Dallas' (UT Dallas') new Athenaeum, a cultural district designed to accommodate the university's expanding arts program.
Made possible by a $32 million gift from the Dallas-based O'Donnell Foundation, this 5-ha (12-acre) project will provide a second location for the Crow Museum of Asian Art, as well as a performance hall and a planned museum for the traditional arts of the Americas. It will also include a central plaza at the heart of its design, creating "a new gateway to the university as well as a destination for students, faculty, staff, and community to foster engagement in the arts and learning," according to UT Dallas. The open space and landscape design aim to establish cohesion between the various buildings within the district and to create an important link to the rest of the campus.
Design and construction will be led primarily by Los Angeles-based architecture firm Morphosis and engineering firm Buro Happold. Morphosis prioritizes performance-driven design which is environmentally, socially, and economically sustainable. Buro Happold's contributions will support these goals through integrated mechanical, electrical, and plumbing (MEP) systems engineering, as well as overall sustainability and Leadership in Energy and Environmental Design (LEED) consultation.
Completion of the project is estimated for 2025.