Decorative flooring aesthetics and durability
by Sarah Said | October 11, 2018 10:01 am
by Daniel Ash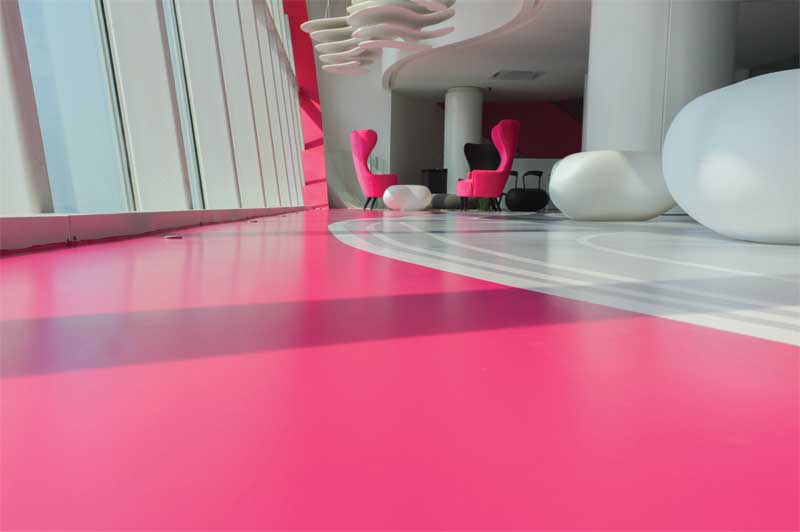 When considering decorative flooring options, the statement, "beauty is more than skin deep," applies to the floor finish more than one might think. The surface underfoot is a complicated area, and getting the look right means not only understanding the desired aesthetics, but also how this visual is going to be created and whether it will be able to maintain its appearance and functionality when faced with a site's daily conditions. For example, will the finish be subjected to heavy foot traffic, ultraviolet (UV) exposure, food and drink spillages, frequent cleaning, or impacts? The list of design considerations is lengthy.
Resin flooring solutions have become a popular choice for large-scale venues because they provide developers and architects with a lot of design versatility while simultaneously delivering the functionality and longevity properties required within these types of environments.
A number of different resin flooring solutions are available, providing various visual and operational properties. It is important to know the differences between them to pick the one with the right colors, patterns, and styles as well as with the right textures, thickness, and durability.
A design benefit of specifying a resin floor is it can be color matched to any shade of the RAL (Reichs-Ausschuß für Lieferbedingungen und Gütesicherung) color palette—ideal for locations eager to achieve design scheme consistency. The choice of color is crucial, as it needs to work with the interior design scheme to convey the desired style, brand identity, or atmosphere.
Standard epoxy floor coatings can be provided in bright, glossy colors, ideal for creating large expanses of smooth, aesthetically pleasing flooring. Many designers make use of the application method of resin systems to segment the floor area into different zones of color to create a dynamic and interesting visual effect.
This segmentation approach is also a good way to bring multiple brand colors into the floor's design scheme or to highlight particular parts of the site. Shopping centers and stores often do this to draw the customers' attention to certain parts of the building or products they are especially keen to promote.
One thing to bear in mind is high-gloss floors' traditionally safe choices such as black and white can actually be detrimental to the overall look. This is because the inevitable dirt and scuffmarks will often be more visible on a black, high-gloss floor than on a more colorful alternative.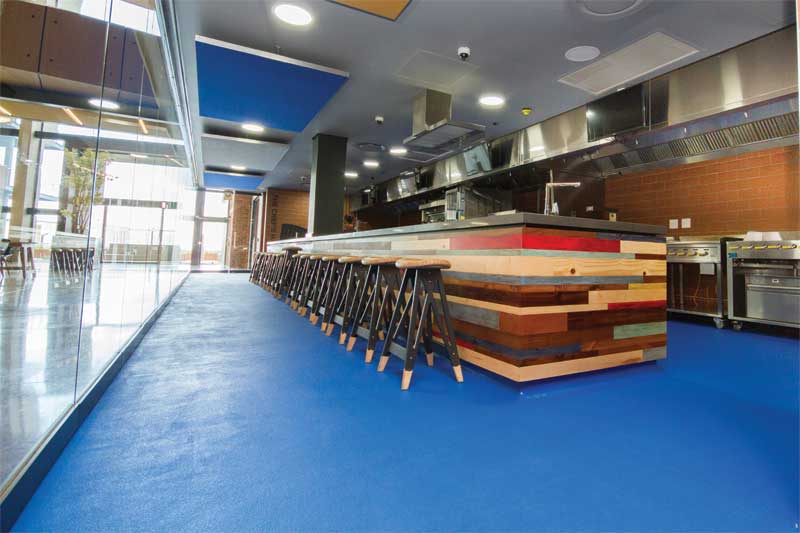 Epoxy materials can be combined with flakes or quartz granules to create a number of visual effects across the surface of the floor. It can be interesting to experiment with different base colors and combine them with a range of additives in different sizes and shades to determine exactly which combination is going to prove the most effective for a specific environment. Mixing blacks, grays, and whites is a good way to create a professional, corporate atmosphere while still making it visually interesting with a dappled, modern appearance. In comparison, vibrant and bold colors such as bright greens, vivid yellows, and electric blues can be put together for spaces desiring a more informal and energetic aesthetic.
Of the various types of resin flooring solutions, seamless terrazzo systems arguably offer the most design versatility. This flooring option provides architects with the flexibility to consider the floor area as one giant canvas on which to create unique works of art.
This material's design potential stems from a rich color palette combined with an application technique allowing for the creation of patterns and complex images tailored to the client's requirements. Brass or aluminum dividers are laid out on the floor to designate the outlines of the colors. The material is then poured into each block in a paint-by-numbers technique. After this step, the floor area undergoes a process of repeated diamond grinding until the vibrant colors and shapes within the floor are revealed.
Decorative aggregates can be added into a resin terrazzo system to create a shimmering, luxurious luster across the floor. These sparkling, light reflective additives can include mother of pearl, marble chippings, crystal glass, flint, granite, and recycled glass.
As the backdrop to the site, a seamless resin terrazzo floor's color and design can be used to complement the venue's brand identity by conveying the same image, style, color scheme, logos, and patterns customers associate with the location.
A good example of this is the floor fashion house Alexander McQueen installed in its Beijing boutique. A white epoxy terrazzo system with clear crystal and glass aggregates was applied to create a seamless surface with a glittering, elegant finish. Crisp, bright white was the store's main color and the floor reflected this image. The floor's light cream pigment provided the perfect setting for the stark white aggregates, crafting an eye-catching pattern of glistening white droplets.
Curved staircases and a "floating" display tabletop were also installed using the epoxy system, creating a stylish finish conveying Alexander McQueen's contemporary, luxurious identity. The finish also would not be compromised by the site's daily use.
Epoxy terrazzo flooring is also well suited to giving old buildings a new lease of life. This fact was exemplified when epoxy terrazzo flooring was used during the renovation of an abandoned public school in the heart of New York City, which was being repurposed as an affordable haven for aspiring artists.
Several areas of the 116-year-old facility in East Harlem were recoated to turn it into El Barrio's Artspace PS109. This included 400 m2 (4300 sf) of the site's entrance and main corridors. After the installation of a new substrate, the first step in the terrazzo project was to lay down 9.5-mm (3/8-in.) thick zinc strips to mark out the desired geometrical design. In addition to creating the required layout, the zinc strips also helped to satisfy the structural requirements for the surface, strengthening control and support joints.
A two-component epoxy resin system was then troweled into place at a thickness of 9.5 mm (3/8 in.). Prior to the application, marble aggregate as well as glass and mirror chips were added to the mixture to give the floor its sparkle. This was then ground down, the first stage of which was an aggressive process using grinders to expose all the stone and chip in the terrazzo system. The floor area was then ground down again with a finer grinding stone to eliminate scratches, and finally, polished and sealed.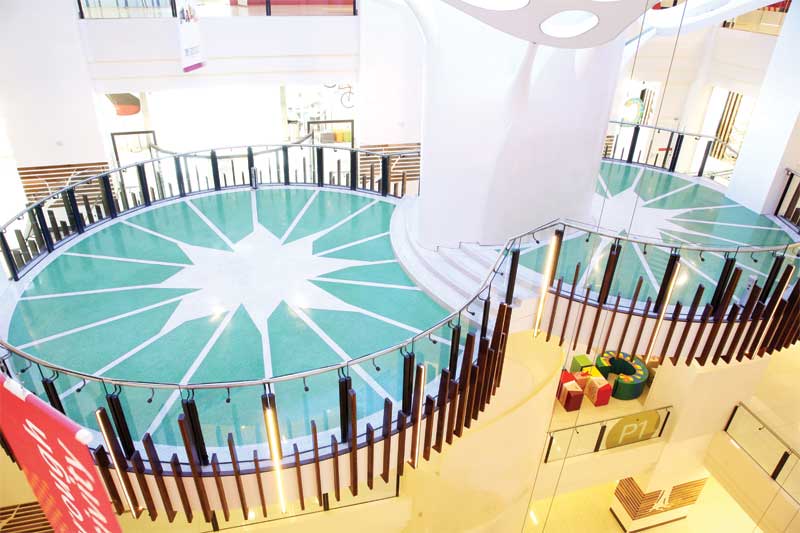 Fast turnaround decorative flooring
Sometimes the practicalities of business can make it tricky to find a window in the construction or refurbishment schedule to install a standard epoxy coating. For example, there might not be enough time to account for the floor's curing time or for the grinding process required for an effective terrazzo project.
In these scenarios, methyl methacrylate (MMA) resin systems can provide a solution. This type of resin flooring is able to provide a trafficable, hard-wearing surface in as little as two hours and is available in a variety of vibrant tones and attractive styles.
A particularly good example of this type of flooring project is the Perth City Railway Station in Australia. The project team applied 2650 m2 (28,524 sf) of an MMA system to create a work of art across the station's floor area during a refurbishment. The station's floor now consists of long, straight bands of different lengths and a wide spectrum of colors (including purples, greens, lilac, and light red), running alongside each other. The contemporary design studio Donaldson and Warn designed the new surface by mirroring the station's interconnected network of tracks, cables, and lights.
The new MMA floor was installed within the very tight timeframe the busy station had available, but was able to ensure a surface capable of maintaining its one-of-a-kind look despite the station's 60,000 daily commuters.
The high-tech advantages of MMA flooring have even caught the eye of one of the world's most technologically advanced organizations—the National Aeronautics and Space Administration (NASA). The Johnson Space Center in Houston, Texas, installed more than 13,935 m2 (150,000 sf) of an MMA flooring system with a decorative hand-broadcast quartz finish.
The flooring work included all of the exterior walkways around the Mission Control complex as well as in the Saturn V Rocket Park. The floor area had to not only tie in to the site's overarching aesthetic, but also maintain its appearance and functionality in the face of the vast numbers of visitors to this iconic venue every single day.
A sleek light gray color was chosen for the floor and a consistent, uniform shade had to be achieved. Additionally, the project included the creation of an eye-catching logo at the ground level in NASA's distinctive livery.
MMA technology has very recently been combined with cementitious urethane materials to create polyurethane methyl methacrylate (PUMA) flooring. This terrazzo-style system is able to cut the application time of traditional resin terrazzo floors by up to 75 percent.
This type of resin flooring is still new to the market, but is quickly gaining popularity, thanks to its ability to provide a terrazzo surface within a rapid turnaround without sacrificing looks or functionality.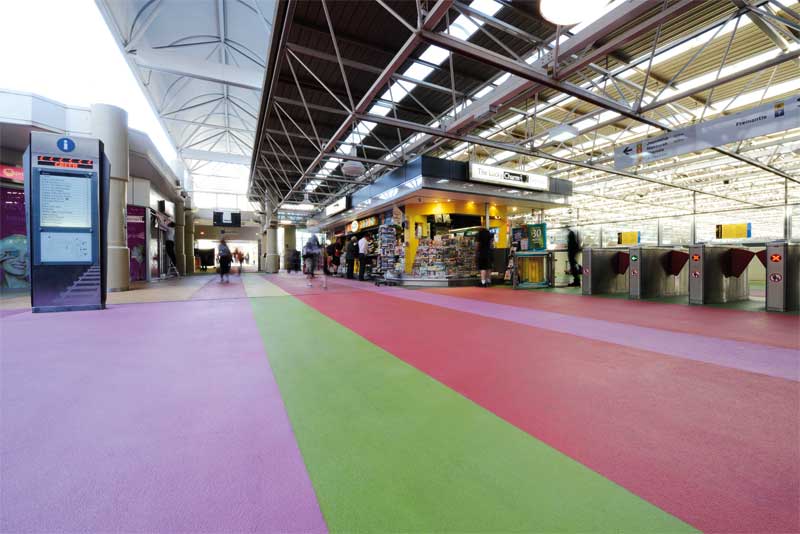 Keeping the look
An attractive floor area is only as good as its ability to maintain its aesthetics when put to the test. Operators of busy sites such as shopping centers, offices, stadiums, and cinemas know it would be pointless to install a beautiful but delicate finish, as it will only fail and need to be replaced after a short period of use. Factors such as heavy foot traffic, high heels, playing children, wheeled equipment, and dropped items can all quickly take a toll on an insufficiently robust finish.
Resin floors can be tailored to meet the challenges they are likely to face, for example, by increasing the thickness of the flooring for areas that will be put under the most stress.
Different resin chemistries react in better or worse ways to wear and tear, with cementitious urethane systems typically being the most hard-wearing option. Cementitious urethanes are available in thicker mixtures than other types of resin flooring and their formulation results in a coating with a very high cross-linked density, ideal for shrugging off impacts and wear that would damage most other materials.
However, cementitious urethanes are usually more of an industrial rather than a commercial option. This is because they are more limited from a design perspective. The previously mentioned resin terrazzo systems are one of the best resins for combining design versatility with durability, as they will comfortably withstand the types of impacts, abrasions, and stains likely to be encountered in a commercial setting.
The long lifespan of terrazzo flooring makes it a very cost-effective material, as the initial outlay can be distributed over many years of reliable service. When treated using the recommended cleaning and maintenance routine, these floors can last more than 30 years.
The heat and chemical resistance of resin surfaces also ensures they will not be damaged by an intensive cleaning regime using corrosive chemicals, hot water, and steam cleaning. However, it is still important to double check the intensity of the cleaning with the flooring supplier to guarantee the chosen system will survive it, as it might be that a thicker, more robust system is actually required or one less susceptible to the particular chemicals the cleaners plan to use.
UV exposure is an often overlooked factor in commercial settings that could drain the vibrancy out of the floor, especially near windows or doorways. High-gloss epoxy coatings are not normally UV stable and therefore the addition of a UV-resistant seal coat may be needed to minimize the risk of damage and discoloration of the floor.
The durability and reliability of resin flooring not only means the floor's aesthetics will not quickly deteriorate, but it also provides operators with significant life-cycle cost savings. This is due to the fact they will not have to spend time, money, and resources on regular repairs or early refurbishment.
Resin floors also have practical benefits, as the seamless, lip-free, and impermeable nature of these surfaces makes them easy to clean. This is great for spaces where food and drink might be spilled or dirt is likely to be walked in from outside as it means the site's cleaners can easily maintain a fresh and unblemished space.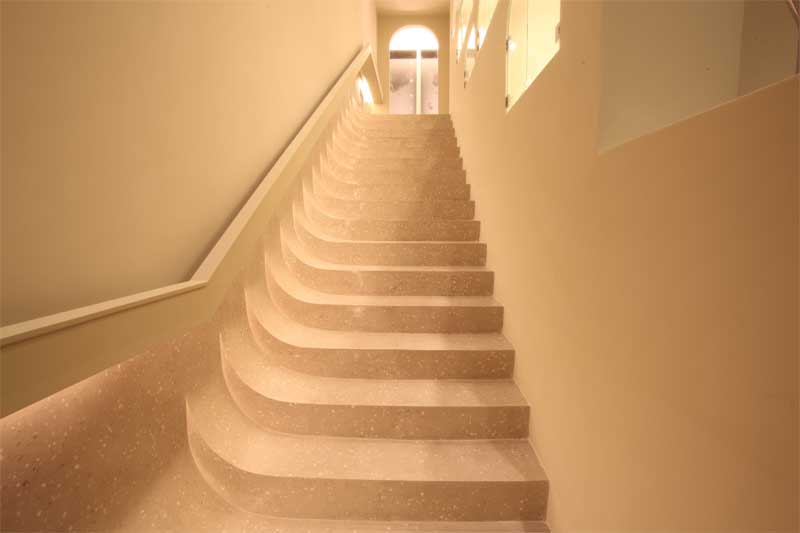 In some parts of the building, the design scheme might clash with important safety concerns. For example, slip resistance might be necessary in parts of the site prone to spillages or where water is walked in from outside. If the desire for a smooth and glossy finish is at odds with the need to prevent accidents, then it is important to find a solution with the ability to appropriately balance aesthetics with safety. There are maintenance products for glossy floors that make them more slip resistant.
Getting the look of a floor right is about more than just considering the decorative factors. Without an awareness of all the other elements related to maintaining a floor it is almost impossible to be sure the finish will retain the visual impact it had when it was first applied. The versatility provided by resin flooring in both the effects that can be achieved as well as how it can be tailored to specific demands and circumstances means businesses can rest assured the surface underfoot will provide the desired aesthetic for an extended period of time.
Daniel Ash is a public relations and media manager at Flowcrete Group Ltd., a global resin flooring manufacturer. Ash's role includes creating press releases, blogs, white papers, and case studies on Flowcrete products and projects as well as educational content for construction industry professionals. He has an MA (Distinction) degree in multimedia journalism from the Bournemouth University and a BA (1:1) degree in English Literature and History from Lancaster University. Ash can be reached at dan.ash@flowcrete.com[6].
Endnotes:
[Image]: https://www.constructionspecifier.com/wp-content/uploads/2018/10/Resin-flooring-is-a-great-way-to-create-large-expanses-of-colorful-and-reliable-flooring.jpg
[Image]: https://www.constructionspecifier.com/wp-content/uploads/2018/10/Cementitious-urethane-floors-can-be-used-to-add-colour-within-more-challenging-environments-such-as-kitchens.jpg
[Image]: https://www.constructionspecifier.com/wp-content/uploads/2018/10/Resin-terrazzo-can-be-used-to-create-intricate-patterns-with-a-shimmering-glittering-lustre.jpg
[Image]: https://www.constructionspecifier.com/wp-content/uploads/2018/10/An-MMA-flooring-system-was-used-to-rapidly-create-a-colorful-robust-finish-in-the-Perth-City-Railway-Station.jpg
[Image]: https://www.constructionspecifier.com/wp-content/uploads/2018/10/Alexander-Mcqueen-used-resin-terrazzo-to-create-a-stunning-curved-staircase-in-its-Beijing-boutique.jpg

dan.ash@flowcrete.com

: mailto:dan.ash@flowcrete.com
Source URL: https://www.constructionspecifier.com/decorative-flooring-aesthetics-and-durability/
---