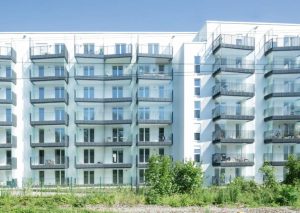 By Bill Devin
Urbanization is increasing. According to 2018 United Nations forecasts, seven out of 10 people will live in cities by 2050. Faced with a huge shortage of space, mixed-use concepts bring high-density tower blocks and space-saving neighborhood developments to life. However, maintaining quality of life and longevity in proximity to living, working, and leisure activities relies critically on specifying the right acoustic solutions.
The World Health Organization (WHO) reports noise pollution as only second to air pollution in detrimental environmental health factors. In the post-COVID era of working from here (WFH) people are seeking live-work environments. Acoustics and building sound isolation become not only critical to the success and long-term viability of a development in this era, but also the only humane ways to build in cities where people will be living and working in the same building.
According to WHO, excessive noise disturbs sleep, causes cardiovascular disease, and has psychophysiological effects, such as reduced performance, elevated irritability, and changes in social behavior. Medical research has found the need to cope with exposure to excessive or incessant noise increases the risk of high blood pressure, stroke, and heart attack, so it makes sense that building materials covering broad strokes would help to mitigate noise and protect the comfort level of its occupants.
"Poor acoustics is that silent killer. Think about distractions in your office—or home office," says Sara Hickman, sustainability director at RDC-S111 in Long Beach, California. Hickman is a LEED AP, WELL AP, and EcoDistricts AP. "Poor acoustics can be so abrupt, and when distracted by something abrupt, it really throws you."
She suggests focusing on typology, codes, and zoning when specifying effective acoustic solutions.
"In the end, they do bring a lot of value because of the rationale behind them."
The post-COVID era has birthed the Zoom Generation and, with it, a real estate trend the Wall Street Journal has referred to as "Zoom Towns." These new Zoom Towns—typically located in smaller, secondary markets—are organizing to become the new 10-minute city. In other words, a metropolis where residents live a hybrid life: working, sleeping, shopping, and entertaining within the same development or neighborhood.
In denser cities, usable real estate is at a premium, so density is increasing. As usable real estate decreases, developers are buying less-desirable properties that abut public transportation or finding historic buildings, such as old mills, which can be skillfully re-used by developers who hire firms known for their mastery of historical renovation.
In each case, wise developers select premium building acoustic products to address their future tenants' acoustic sanity. This contributes to the building's value, long-term viability, and ability to retain tenants. Sound acoustics product specification also future-proofs a building faced with possible transit developments years down the road.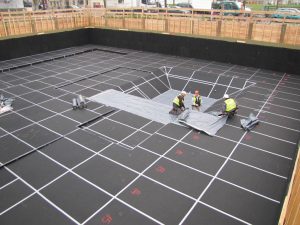 RDC-S111 designs a lot of multi-family and affordable housing, which tends to be located right next to public transit and major freeways.
"We're constantly thinking about acoustics as early as conceptual design and asking, 'What are we doing besides specifying high-performance glass that may or may not be value engineered out?'" relates Hickman.