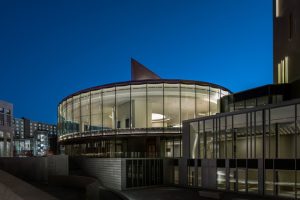 The Denver Art Museum (DAM), Colorado, will reopen its expanded and reimagined campus on October 24. The museum will unveil all eight levels of its Gio Ponti-designed Lanny and Sharon Martin Building, which originally opened to the public 50 years ago, and the new Anna and John J. Sie Welcome Center.
Part of an overall campus reunification and building renovation project designed by Machado Silvetti and Fentress Architects, the campus reopening coincides with the Martin Building's 50th anniversary.
"We are looking forward to welcoming our community into new, dynamic spaces this fall, to explore art, world cultures, and their own creativity," said Christoph Heinrich, Frederick and Jan Mayer director of DAM. "For more than three years, the north side of our campus has been undergoing a bold transformation to improve the visitor experience while honoring and preserving the building's historic architecture."
This October will also mark the opening of the museum's new Sie Welcome Center, which connects the Hamilton and Martin buildings, and was designed by Machado Silvetti and Fentress Architects, with a nod to Gio Ponti's original vision. The new building, crowned by an elliptical glass event and program space, visually connects the campus, creating improved spaces for ticketing and guest services, as well as two new dining options. The lower level houses a purpose-built art conservation and technical studies laboratory.
As part of the transformation of the Martin Building, the collection galleries have been updated and reconceived with a commitment to telling more inclusive stories. Collection galleries housed in the Martin Building include new design galleries and a reimagined Northwest Coast and Alaska Native gallery on level 2; reconceived Indigenous Arts of North America galleries on level 3; a new vision for Latin American Art and Art of the Ancient Americas galleries on level 4; newly installed Asian Art galleries on level 5; new European Art Before 1800 galleries, Textile Art and Fashion galleries and Photography galleries on level 6; and new and expanded Western American Art galleries on level 7.
Reclaiming space that was utilized as art storage for the last decade, the new Bonfils Stanton Foundation Gallery, a 604-m2 (6500-sf) renovated gallery on level 1 in the Martin Building, will feature special exhibitions drawn primarily from DAM's collections. This space will open with the thematic exhibition ReVisión: Art in the Americas, which brings together works from the museum's Latin American and Art of the Ancient Americas collections.
Martin Building and Sie Welcome Center design
Designed by Italian architect Gio Ponti and Denver-based James Sudler Associates, the Martin Building opened in 1971. Its seven-story silhouette is one of the first-ever high-rise art museums and is the only completed building in North America by the Italian modernist Gio Ponti.
The building's renovation and upgrades were designed by Machado Silvetti and Fentress Architects, and constructed by Saunders Construction. The work includes the addition of 3096-m2 (33,328 sf) of new gallery and public space, fulfilling Ponti's original vision for visitor access to 7th-floor views; the addition of skylights that reveal new angles of the building's design; and exterior improvements such as lighting and revitalization of the glass tiles on the building's façade. The renovation also includes updating environmental and other key systems with the latest technology. The completed project received the Leadership in Energy and Environmental Design (LEED) Silver certification. Infrastructure and safety upgrades include a new elevator core, which adds two additional elevators and a transparent public staircase for improved visitor flow, along with updated mechanical, electrical, and plumbing (MEP) systems, new windows, flooring, and exterior wall insulation.
The 4645-m2 (50,000-sf) Sie Welcome Center's second story façade comprises a series of 8-m (25-ft) tall, 2-m (8-ft) wide curved structural glass panels with insulated glazing—a feat of engineering and the first building to use curved panels in this way. The welcome center serves as an entry point and a destination for visitors and seamlessly connects all aspects of the museum campus.
Click here to read more about the museum's redesign.