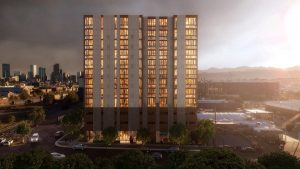 Tres Birds, an architecture firm based in Denver, Colorado, has confirmed construction of the city's tallest mass timber building will begin in July 2023.
The 12-story building, named "Return to Form," will be located at 3495 Wynkoop Street, in Denver's River North (RiNo) Art District. The project was one of six winners in the Softwood Lumber Board (SLB) and USDA Forest Service (USDA) 2022 Mass Timber Competition: Building to Net-Zero. The Construction Specifier's report of the earlier news can be found here.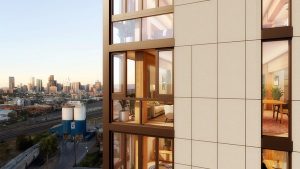 The mass timber for the building will be made from Douglas fir from the Pacific Northwest. It will be featured as exposed wood in the building's walls and ceilings. Only a small percentage of the building will be made with concrete, including the foundation, the stairs, and the elevator core.
"Return to Form" will have 84 dwelling units, including four penthouse units, 32 two-bedroom units, 32 one-bedroom units, and 16 studio units. Four of the units will be affordable as defined by the city of Denver. The ground floor will feature a cafe open to the public, as well as a lobby, a gym, and co-working amenities for the building's residents. The dwelling units will occupy the fourth to twelfth floors, and a rooftop deck is planned for the use of building residents. Onsite parking will be on levels two and three.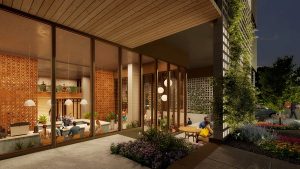 "The recent development of mass timber construction allows us—for the first time in history—to design high-rise building structures out of a renewable resource: trees," says Michael Moore, founder and design principal of Tres Birds. "This new, fire-resistant building material is renewable, hence healthy for the planet. Trees utilize carbon to make oxygen, and vegetation cools the earth. Concrete—and the fossil fuels used to make and transport it—create more carbon that adds to global warming. We need to be building all of our buildings out of renewable resources and manage those resources well."