Department of Energy to fund building technology R&D
by Samantha Ashenhurst | May 10, 2018 2:28 pm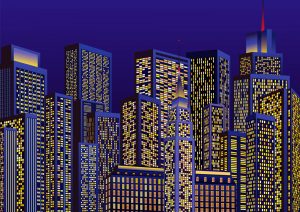 The U.S. Department of Energy[2] (DOE) announced up to $34.5 million in funding to support building technology research and development (R&D). The DOE's Building Technologies Office[3] (BTO) is issuing two funding opportunities: Buildings Energy Efficiency Frontiers & Innovation Technologies (BENEFIT) 2018 and Solid-state Lighting (SSL) Research, with the purpose of developing systems that will lead to a reduction in building energy consumption.
BENEFIT 2018 will fund up to $19.5 million for 15 to 25 cost-shared projects focused on early-stage R&D to enable the development of new technologies able to improve efficiency, reduce the energy costs in buildings, and facilitate interaction with the electricity grid. Under this funding opportunity, BTO is interested in six topic areas:
Advanced separation technologies for building energy efficiency
Advanced building materials
High-performance windows
Novel approaches for cyber-physical systems in buildings
Integration research of advanced commercial energy efficiency packages
Advancements in natural gas and other fuel-driven equipment
Meanwhile, SSL Research will fund up to $15 million for ten to 15 cost-shared projects to conduct early-stage research for development in SSL technology. The funding will accelerate development of high-quality light-emitting diode (LED) and organic light-emitting diode (OLED) products with the purpose of reducing lighting energy use. Under this funding opportunity, BTO is interested in four topic areas:
Core technology research for LEDs, OLEDs, and cross-cutting lighting research
Proof-of-concept and prototype development for LEDs and OLEDs
Advanced fabrication R&D
Innovative lighting in a limited mock field application
Concept papers for BENEFIT 2018 are due June 8, with full applications due August 23. Applications for SSL are due June 18.
To read more, click here[4].
Endnotes:
[Image]: https://www.constructionspecifier.com/wp-content/uploads/2018/05/bigstock-City-lights-25689830.jpg
U.S. Department of Energy: https://www.energy.gov/
Building Technologies Office: https://www.energy.gov/eere/buildings/building-technologies-office
here: https://eere-exchange.energy.gov/default.aspx
Source URL: https://www.constructionspecifier.com/department-of-energy-to-fund-building-technology-rd/
---