Design team transforms 1960s hall into modern academic hub at Portland State University
October 15, 2021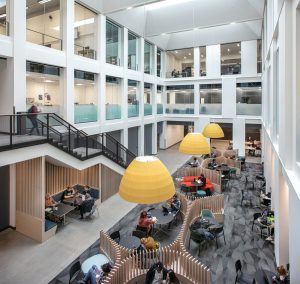 Hacker, a Portland-based architecture studio, transformed the outdated fortress-like 1960s Neuberger Hall (currently named Fariborz Maseeh Hall) into a modern academic hub at Portland State University.
The five-story building was originally built in the Brutalist-style, a common campus aesthetic which reflected the pragmatic and inwardly focused buildings of that era.
Evolving this building to meet the current needs focused on three key strategies: re-centering the design to the user, prioritizing life cycle and life safety upgrades to the building as a whole, and engaging with owners, contractors, consultants, and subcontractors in collaborative decision-making that preserves opportunities to support all Portland State University students.
The original building was completed in two phases, 1961 and 1969. The two elements are now joined by a common floor plan, while their distinct exterior appearances are preserved. Through a programming exercise, the removal of 1858 m2 (20,000 sf) of floor area for the light well reduced only 278.7 m2 (3000 sf) of assignable space.
The exercise also improved program efficiency and flexibility with the additional floor area at the interior with access to daylight. Exterior facades were upgraded through new curtainwall systems, that increase visibility while enhancing energy performance.
A new central light well brings daylight into the heart of the building, and a more transparent facade provides visual connectivity to the outdoors. The new floor plan  provides students, faculty, and staff with enhanced opportunities for connections.
Improved ground floor program distribution also provides visual and physical connections between the plaza and park amenity spaces. The physical connections are improved through a continuous accessible floor plan with full American Disabilities Act (ADA)-compliant access and enhanced way finding. Previously closed-in hallways and circulations now have unobstructed line of sight between the building's eastern and western perimeter.
Endnotes:
[Image]: https://www.constructionspecifier.com/wp-content/uploads/2021/10/MA_Portland.jpg
Source URL: https://www.constructionspecifier.com/design-team-transforms-1960s-hall-into-modern-academic-hub-at-portland-state-university/
---