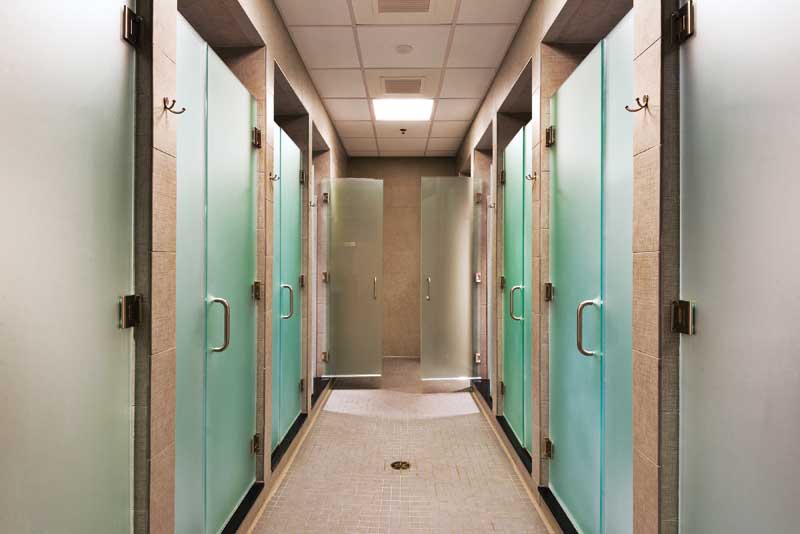 by Bill Bridgeman
Upgrading older facilities with modern restroom fixtures and amenities can update much-needed aesthetics, maintenance, and safety reliefs. Designing with accessibility in mind can do more than provide easier-to-use spaces for the elderly and disabled—it provides comfort for everyone. Both required and non-required barrier-free details such as raised-height toilets, grab bars, and improved lighting can benefit users of all ages, agilities, and abilities.
Universal design is simply good design. At its core, it makes moving through the space easy for any user, whether elderly, a young child, or a healthy adult with few limitations.
Universal design is characterized in many ways. For example it could include:
a light switch located in a spot where anyone can access it;
a large bottom rail on a front door allowing easy access to enter and exit; or
a toe kick in the kitchen enabling easy wheelchair access.
These are all important design features that, when included correctly, do not affect anyone's use of the space, but rather makes functionality easier.
Applying industry guidelines and standards by the Americans with Disability Act (ADA) and American National Standards Institute (ANSI) is important to designing in this fashion correctly. In addition, local and state codes provide requirements to guide design and construction.
Working it out at the gym
When Healthquest, an upscale gym in Flemington, New Jersey, began remodeling its locker rooms, the company had specific requirements in mind. The new showers had to complement the high-end design of the fitness center and offer low maintenance, while eliminating potential water penetration issues in grout and tile areas. Previous leakage from products, such as water getting in behind wall tile, left the Healthquest owners hoping for a better solution. John Mannino, Associate AIA (Cerminara Architect), was chosen to manage the project.
The project scope included replacing all the showers in the women's, men's, and family locker rooms. Eliminating leakage and addressing any existing water containment issues was of high importance to Faith Cust, Healthquest's executive director of operations. The original units allowed water to seep in behind the wall, leading to damage in all the locker rooms. The executive director was especially leery about the use of tile, due to previous issues with the product.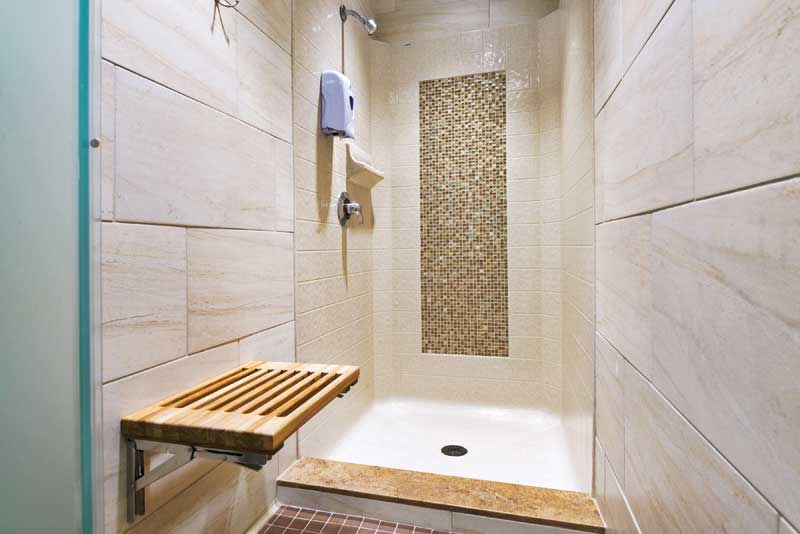 Mannino and his team considered all the materials they had worked with in the past and evaluated them in conjunction with the requirements of the Healthquest project. However, nothing they previously used would suffice both functionally and aesthetically.
To solve this problem, the team began looking at single-unit showers. Unlike other showers with seams that can expose areas for water seepage, these modular units are complete in themselves, with the floors and walls molded together. Additionally, extra colors and the ability to customize the showers made them more appealing for the project.
"Most showers are white, almond, or bisque. These showers offered other options that look like granite or solid surface," adds Mannino.
The tile-recess options were pursued because they offered a high-end aesthetic without the potential of leaking.
At the end of construction, the team had added 24 standard showers, six accessible showers, and a larger shower in the family locker room. The accessible showers included barrier-free access, support rails, and benches. The overall result met the gym's objective—to provide a safe, appealing bathing solution for all members.