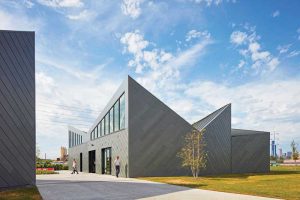 With a potential lifespan of 80 years or more, architectural zinc roofing delivers longevity, sustainability, and resiliency to meet or exceed specified requirements on commercial, municipal, residential, educational, health care, and other thoughtfully designed projects.
The history of zinc as a construction material reaches antiquity. Modern architectural zinc is specified for roofing, rain management, wall cladding, and other architectural details.
It can be fabricated into a variety of panel styles, sizes, and shapes. Today's zinc material options also offer different colors and coatings, complemented by numerous installation techniques and systems.
This proven, natural construction material is extremely long-lasting and requires minimal maintenance. Throughout its long lifetime, its dynamic aesthetic evolves as the zinc material's patina is influenced by the project location's unique climate and protects this ecologically friendly material for many generations.
Elemental, natural, and sustainable
While zinc could be considered a precious metal for its usefulness, it is not limited in its supply. Zinc is the 24th most abundant element in the earth's crust. The largest working reserves are in the United States, Asia, and Australia. Research indicates zinc resources should be available for at least the next 700 years, without taking recycled zinc scrap into account.
In design and construction, zinc is known to be a dense material which is easy to form, cut, and fabricate. Pure zinc is somewhat brittle and works best as a building material when alloyed with small amounts of titanium and copper.