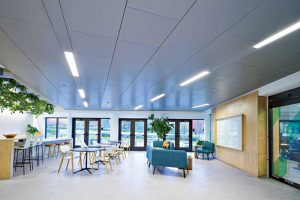 The past two years have demonstrated how critical the need is for employers to ensure a safe and healthy work environment for its staff. With many employees nervous about returning to their traditional workplaces, it is paramount to improve indoor health and an increased sense of occupant well-being by implementing or upgrading systems and facilities to reduce the transmission of COVID-19 and other airborne pathogens.
As a result, a critical part of re-entry is for employers to prove they are providing a safe, healthy indoor environment to meet occupants' ongoing needs now and for the long-term. Although the risk of contracting COVID has fallen, it has not disappeared entirely and has spurred heightened awareness of how to stay healthy indoors.
To demonstrate how today's healthy workplace can function, a major ceiling manufacturer recently renovated 929 m2 (10,000 sf) of existing workspace on its corporate campus and named it the 'Living Lab.' Created in partnership with architectural firm Gensler, the fully equipped office space is designed with optimal acoustics, lighting, cleanliness, comfort, and excellent air quality in mind. It is intended to test new health-focused solutions and emerging innovations in workplace design. It is intended to deliver excellent indoor environmental quality for office occupants and to test new health-focused solutions and emerging innovations in workplace design.
Company employees regularly work in the space and provide feedback on the functionality of individual and collaborative areas. In addition, sales representatives bring architects, interior designers, building owners, and facility managers to tour the space.
A living, breathing workspace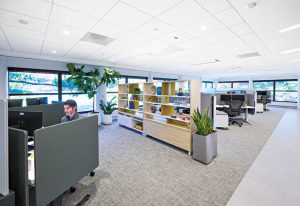 According to the facility's manager, the goal of the Living Lab is to learn how to help make office spaces safer, as well as more comfortable, efficient, and inspiring so employees want to come back again. It is designed to make the office a destination with indoor environmental quality at the forefront.  In the Living Lab, new solutions take shape, from systems creating cleaner air and enhancing effectiveness of HVAC systems to piloting new installation methods, materials, shapes, and design concepts.
The goal was to create a healthy and inspiring environment in which space could be better used to allow more cross functional teams to come together to collaborate and innovate. The space allows products to be switched out and tested as needed. It can even be modified in terms of how the physical space works as strategies change. Feedback and reaction have been very positive. The space allows products to be switched out as needed; it can even be modified in terms of how the space works as strategies change.
Intended to be a testing ground
Gensler senior associate Stephen Freret says the Living Lab is intended to be a testing ground and push the limits of innovation to a workplace model embodying a 'healthy spaces' philosophy, which is built on four key strategies:
∞ Elevate wellness and sustainability in the employee experience.
∞ Create a 'wow' factor that delivers premium customer and employee experiences.
∞ Optimize for workplace flexibility and digitalization to innovate faster.
∞ Foster connection to community.
Freret also noted how "bringing the outdoors in" is an important design element.
"We believe one of the keys to a healthier and happier work experience is access to green spaces and the ability to easily access outdoor environments," he says. "In the Living Lab, we designed the space to immediately put this design strategy front and center."
Freret says one of the biggest changes to introduce more natural light into the space was removing the existing offices along perimeter windows.
Other biophilic design elements in the lab include numerous hanging plants, warm wood tones, and deep, earthy colors evoking growth and well-being.