by Nithya Caleb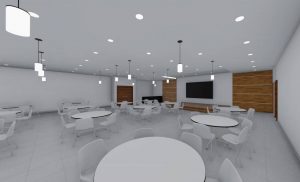 Religious organizations around the world have adopted innovative methods to serve their communities and keep the congregation together. Some have embraced technologies and new formats for virtual worship. Harlem-based artist, architect, and educator Victor Body-Lawson, AIA, founder of his eponymous firm, Body Lawson Associates (BLA), has helped install video studios in many churches. In an e-mail interview, Body-Lawson takes us behind the screens of virtual services.
When designing religious places, the focus is on creating multifunctional spaces. The typical church features a main sanctuary, a fellowship hall for socializing, and some classrooms and meeting rooms. These spaces as meant to be maximized much as possible—the fellowship hall doubles as a reception hall, conference room, and dining space, and the classrooms can serve a host of purposes from video capabilities to community-oriented amenities, such as game centers for youth.
However, for virtual services, the optimal situation is a stand-alone room that can be converted into a video production studio. This serves two purposes:
videos can be filmed and broadcast from the very room; and
the space serves as a remote control booth for live streaming services or events taking place in the sanctuary.
A third function of these studios is the music—managing sound levels during services and providing optimal space for the band to rehearse and record music.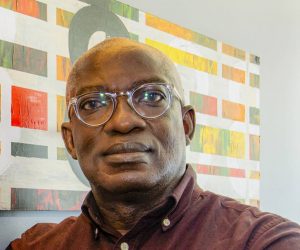 Design elements of the room include soundproofing, electrical engineering to ensure enough connections for various pieces of equipment, broadband, an engineering board, and, potentially, music instruments and amplifiers.
"You want a control board in the main sanctuary so you can live feed from there. This could be located in the back of the sanctuary so you are not affecting sight lines. From that control board you will feed the information to the studio, which could be in a remote location," said Body-Lawson.
Design considerations
It is important to have the right kind of power, internet access, and quality Wi-Fi. Lighting must also be adequate, especially in the sanctuary and stage. It is best to conceal all cables, as they can be a trip hazard for visitors. Additionally, audiovisual equipment like LCD monitors, projectors, and screens may need to be incorporated.
Suitable building materials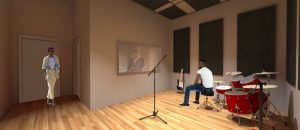 The design goal is to create a bubble—a room within a room—so the sound will not travel into the rest of the church. Soundproofing panelling and foam and perforated wood panelling are good for sound absorption. Installing soundproofing materials on the ceilings, walls, and floor are important for buffering noise. In certain areas, carpets help to deaden sound. Rugs can also be used over wood or laminate wood flooring to create a more aesthetically pleasing look.
To prevent sound transmission from room to room, BLA architects stagger the studs between the demising walls of the studios. Acoustic tile ceilings are also employed to help create a buffer between the ceiling and the floor above.
Technological pre-requisites
According to Body-Lawson, video broadcasting and streaming services are the biggest drivers of these "Zoom" congregations.
In older churches, the BLA team installs plug-and-play systems that allow religious leaders to simply push a button to be online.
Budget and time will determine the amount of virtual events, but "society as a whole is heading toward a hybrid model, where videoconferencing is a new normal that will be mixed increasingly with in-person meetings and events/services," explained Body-Lawson.
Budget
A professional-grade studio is expensive and time-consuming, as the project team needs to deal with a host of issues from retrofitting the space, getting permits, and installing the required electrical and mechanical systems.
Religious organizations are able to make these expensive upgrades by partnering with developers. Many churches have leveraged their location—usually prime real estate sites—by teaming up with a developer and becoming a part of a new mixed-used building where the church is on the ground floor and residential units are constructed on the levels above.
"Churches who do not have the opportunity to expand as part of a larger mixed-use project have simpler options that we can install to help them get video- and online-ready. A very inexpensive way of doing it is to get a Zoom account and create a background and some inexpensive lighting," clarified Body-Lawson.
Case study
The renovation of the Holy Trinity Baptist Church in Brooklyn, New York, is part of a new mixed-use project that is being designed by BLA. The project includes integrating a video studio into a back-of-house area near the church's vestry and sacristy. Additional electrical and data service and acoustic elements have been added so clergy, staff, and volunteers could record and broadcast not only religious services, but also talks and meetings to members. The professional studio accommodates a small engineering booth, and the soundproofed area has enough space for a full band. The sanctuary will also be connected to that room so they can broadcast services, if needed.
BLA has also designed a multipurpose room next to the lobby. This room could be used for community amenities, a new approach that invites the community in, as traditional church designs tend to create exclusive, members-only spaces.
Conclusion
The pandemic has created a crossroads in the design of religious organizations. Churches that have embraced technology and videoconferencing are growing.
When the pandemic ends, video studios will allow churches to maintain a hybrid model that incorporates both online streaming to other areas in the building and outside as well as in-person services. Body-Lawson believes the push for digitalization will only grow stronger, so it is likely all churches will feature some form of video studio, whether rudimentary or state-of-the-art.