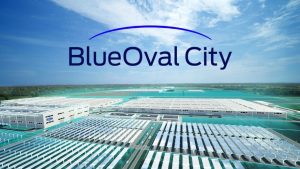 Detroit-based construction company Walbridge has broken ground on Ford Motor Company's $5.6 billion 1457-ha (3600-acre), environmentally friendly mega campus called BlueOval City, which will feature a new electric vehicle (EV) factory and a lithium-ion battery gigafactory in Stanton, Tennessee.
The project will allow Ford to assemble an expanded lineup of electric F-Series vehicles and lithium batteries for powering both Ford and Lincoln vehicles. The battery plant is a partnership with the South Korean company SK Innovation.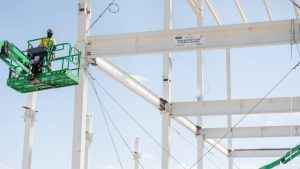 Despite its size, the assembly plant at BlueOval City is designed is to have a regenerative impact on the local environment through biomimicry in the layout of the facility. Once fully operational, the assembly plant is designed to be carbon neutral. Further, it will rely on zero-waste-to-landfill processes by capturing materials and production scrap at an on-site materials collection center to sort and route materials for recycling or processing either at the plant or at off-site facilities.
Through an on-site wastewater treatment plant, the assembly plant aspires to make zero freshwater withdrawals for assembly processes by incorporating water reuse and recycling systems.
So far, in terms of construction updates the crews have moved more than 3.5 million m3 (1.24 billion cf) of soil, laid nearly 370,000 tons (370,000,000 kgs) of stone, and installed more than 4600 deep foundations.