A new report, ranking the relative construction costs found in 44 of the world's major cities and spanning 13 different building types, has revealed New York City as the most expensive place to build.
"New York rises to the top globally once again due to a lack of real-estate availability, accessibility, and high real-estate prices," says David Hudd, cost and commercial director for Arcadis, which published the latest "International Construction Costs" report. "To build in such a dense urban environment like NYC, you must find solutions to control costs, such as expertly handling storage, transport, and staging of building materials, identifying skilled construction firms and labor far in advance, and implementing modularized construction."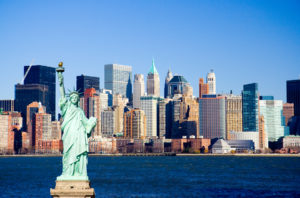 Influenced by large-scale construction projects and international investment, this is not New York's first year as the most expensive city in the world, and it is unlikely to be the last. Its local construction is almost 50 percent more expensive than the country's national average, and more than 20 percent more expensive than other major cities (e.g. Chicago, Los Angeles, Seattle, and Boston). Further, it is the only U.S. city on the survey's 'top 10' list, which also includes:
Hong Kong;
Geneva;
London;
Macau;
Copenhagen;
Stockholm;
Frankfurt;
Paris; and
Vienna.
Although New York's performance has remained fairly consistent, other cities have seen fluctuation. For instance, Shanghai and Manila—35th and 38th on the global list, respectively—each dropped eight places from their 2016 standings. On the other hand, Taipei, Auckland, and Belgrade (ranking 40, 13, and 30, respectively), each rose four places. Among the top 10 cities, London dropped from second place to fourth between 2016 and 2017, likely due to the devaluing effect Brexit had on the country's currency.
Statistics for Europe were fairly inconsistent from country to country, with construction costs in Paris nearly 50 percent higher than those in Lisbon and Athens and with widespread uncertainty caused by Brexit and various upcoming elections. The United States also displays some variation—for hard construction costs, San Francisco comes in at a close second to New York City given its similarly limited space, strict seismic requirements, and competitive atmosphere, while Houston sits a comfortable 10 percent below the national average.
U.S. construction output is only expected to grow, increasing by about three percent per year thanks to the country's large metropolitan areas, accelerating domestic manufacturing industry, and housing market. However, many other regions can expect stalling or decline. Asia and South America's oversaturated real estate and resource markets make for low demand, while in the Middle East, many cities have experienced slowdown—Doha and Dubai being the only exceptions thanks to the approaching FIFA World Cup 2022 for soccer and Expo 2020. Australia's infrastructure and housing markets, however, are still performing well—especially in New South Wales and Victoria—due in part to a $184-billion AUS plan for rail and motorway construction.
The full report is available online. Costs are representative of local specification—meaning cost differentials represent specification differences as well as labor and material cost differences—and are current as of the fourth quarter of 2016.