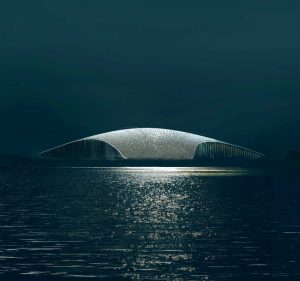 Dorte Mandrup has won an international competition to design 'the Whale,' a new Arctic attraction in Andenes, Norway. They beat strong architectural firms such as BIG, Snøhetta, anSnøhetta Ramstad.
Just a few sea miles from shore lies the deep-sea valley, Bleiksdjupa, where migrating whales pass by. This pit-stop has made Andenes one of the best places in the world to spot whales and is the reason for the attraction to be built there.
Situated by the edge of the ocean, the Whale will grow out of the dramatic Norwegian landscape. It rises naturally as a soft hill on the rocky shore.
The curved roof will be covered with stones that naturally patinate and underline the connection between the landscape and the building. The structure aims to fit into the landscape while also enhancing its character and adding a complementary element.
The parabolic form of the roof is defined by three high points on the site, and the foundation is informed by the landscape beneath it. Large windows that open toward the archipelago underline the connection between landscape and building.
The structure will house exhibition spaces, offices, a café, and a store.
The building is expected to open in 2022.