Download our new e-book on fire protection for free
August 12, 2019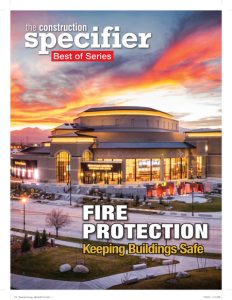 The magazine's series of sponsored e-books continues with a discussion on the various elements of fire safety in the built environment.
The Construction Specifier has announced the newest volume in its series of free, downloadable e-books—a technical exploration of the importance of perimeter fire barrier systems and why it is critical to use the proper terminology and reference the correct code requirements to properly specify doors, frames, and hardware for fire door and smoke door assemblies.
The curated collection of magazine articles also includes a case study on how the project team of the Hale Centre Theatre in Sandy, Utah, addressed exterior noise intrusion and life safety with the installation of acoustical smoke vents.
It also makes a case for why specifiers must not rely on extrapolated data to determine appropriate thickness of intumescent coatings for structural steel section.
Download the "Fire Protection: Keeping Buildings Safe" in two different formats—pdf or digital edition—by visiting www.constructionspecifier.com/ebook/owens-corning-fire-protection-keeping-buildings-safe-e-book[2].
Endnotes:
[Image]: https://www.constructionspecifier.com/wp-content/uploads/2019/08/CS_OwensCorning_eBook-2019_Cover.jpg
www.constructionspecifier.com/ebook/owens-corning-fire-protection-keeping-buildings-safe-e-book: http://www.constructionspecifier.com/ebook/owens-corning-fire-protection-keeping-buildings-safe-e-book
Source URL: https://www.constructionspecifier.com/download-our-new-e-book-on-fire-protection-for-free/
---