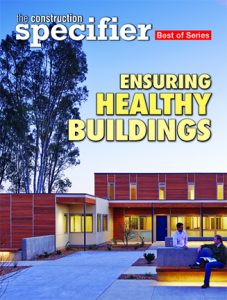 The magazine's series of sponsored e-books continues with a look at the role HVAC systems play in creating healthy indoor environments and reducing energy consumption in the building.
The Construction Specifier has announced the newest volume in its series of free, downloadable e-books—a technical exploration of heating and ventilation systems with topics ranging from employing natural ventilation to manage indoor environment to best practices for upgrading HVAC equipment in school facilities. The curated collection of magazine articles also includes our look into how hydronic radiant heating and cooling systems help project teams achieve energy performance targets.
Download the "Ensuring Healthy Buildings" e-book in two different formats—pdf or digital edition—by visiting www.constructionspecifier.com/ebook/rehau-ensuring-healthy-buildings-e-book.
.