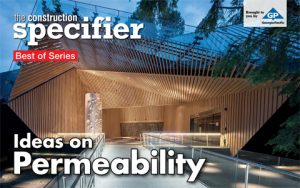 The magazine's series of sponsored e-books continues with a discussion on management of moisture in the wall assembly.
The Construction Specifier has announced the newest volume in its series of free, downloadable e-books—a technical exploration of the importance of designing systems with more resilient and adaptive product choices such as smart vapor retarders and hybrid assemblies in certain climate zones to optimize building performance.
The curated collection of magazine articles also analyzes the basic differences between air and vapor barriers, and their roles as part of an effective building envelope system.
It also makes a case for the need to take a holistic approach to designing a wall system by not only providing adequate protection against water intrusion, but also enabling the wall to dry out when it inevitably gets wet.
Download the "Ideas on Permeability" in two different formats—pdf or digital edition—by visiting www.constructionspecifier.com/ebook/georgia-pacific-ideas-on-permeability-e-book.