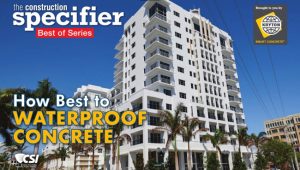 The Construction Specifier has announced the newest volume in its series of free, downloadable e-books—a technical discussion on waterproofing concrete.
It illustrates integral concrete waterproofing (ICW) technology and how it stops moisture intrusion at its root by preventing the flow of water through concrete.
The curated collection of magazine articles also examines how crystalline waterproofing technology helps improve the waterproofing and durability of concrete by filling and plugging pores, capillaries, and micro-cracks.
It also highlights the advancements in fluid-applied waterproofing material chemistry and technology.
Download the How Best to Waterproof Concrete e-book in two different formats—pdf or digital edition—by visiting www.constructionspecifier.com/ebook/kryton-how-best-to-waterproof-concrete-e-book.