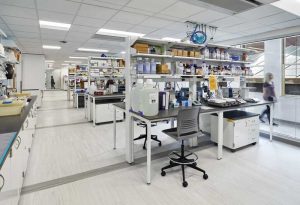 The early phases of the design process, such as programming and planning efforts, are typically exercises to get the entire team on the same page concerning programmatic priorities and budget limitations. Additionally, these early phases should also be approached through a lens of sustainability.
If done correctly, the process will focus on the benefits of program efficiency (avoiding overbuilding), creating functional adjacencies (shared spaces), planning for efficient systems (sustainable and green), and getting the best long-term value as well as setting standards for materials, equipment, and the environment.
Do not overbuild
It has been said before: "lean is green;" and "avoid overbuilding." The benefits of program efficiency for a research space include energy savings and material savings that can be applied to upgrade lab spaces.
Right-sizing a building—that is, managing needs, wants, and the budget—can be emotional. There is a delicate but necessary balance between diplomacy—managing needs versus wants—and planning backed by evidence. Utilization studies should inform the basis of occupants' space requirements, both today's needs and future needs. Lab planning professionals account for standards, class schedules, research grants and focuses, and projections of growth, or retraction. Any gap analysis part of a utilization study will reveal areas of underutilization and crowding.
At Miami University in Ohio, space planners were able to right-size research and other areas by applying utilization data. The resulting cost savings allowed for linoleum flooring to be specified in the research labs. The linoleum is not only sustainable, but also wears better and can help researchers be more productive by preventing fatigue caused by being on their feet for most of the day.
Creating functional adjacencies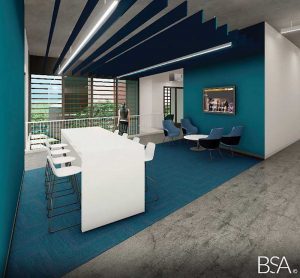 The necessities of designing shared spaces can lead designers to opportunities to also right-size space allocations and reduce redundancies. At the Institute for Drug Discovery on the campus of Purdue University, shared support facilities were designed in the center of the floorplate to maximize the adjacencies for the most-frequent users. Reducing square footage lowered the carbon footprint, kept additional materials out of the landfill during construction, created more green space on the campus, and created lean processes in the research environment.
In a similar fashion, the shared core facilities at Purdue's new engineering complex, Lambertus and Dudley Halls, led to optimal plan configurations for both efficiency, daylight capturing, and collaboration. Study areas were located next to faculty offices and allowed natural light to be delivered deep into the building to circulation areas. This space-planning model influenced the design of the floorplan throughout the building.
Adjacencies can also be vertical. At the Stark Neurosciences Research Institute, vertical zoning is manifested in the "vertical vivarium." Vertical adjacencies allow for animal holding rooms to be located adjacent to the laboratories and main supporting spaces. Researchers have immediate access to animals without leaving their lab area. The mechanical system's vertical configuration is extremely efficient, saving on operational costs.