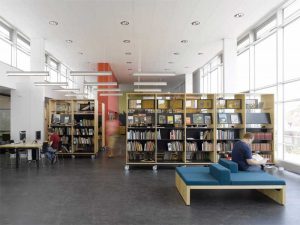 by Gary Madaras, PhD
Preventing noise from transmitting between enclosed rooms is important in buildings. A conversation between a doctor and patient in a medical exam room, or between a lawyer and client in an office, should be confidential. People in adjacent rooms should not be able to listen to the private information being exchanged.
Inter-room noise isolation applies to enclosed rooms horizontally adjacent to one another on the same floor. Much is known about constructing partitions, whether they are made of masonry or gypsum wall board attached to metal or wood studs, to achieve the desired level of noise isolation. There have been multiple, comprehensive studies on the noise isolating performance of partitions (for more information, read California Department of Health Services' "Catalogue of STC and IIC Ratings for Wall and Floor/Ceiling Assemblies;" available through the Western Wall and Ceiling Contractors Association's Technical Services Information Bureau; National Research Council Canada [NRC] Institute of Research in Construction's [IRC's] "Gypsum Board Walls: Transmission Loss Data, Internal Report" [IRC-IR-761, March 1998] and "Sound Transmission Through Gypsum Board Walls: Sound Transmission Results" [Internal Report IRC-IR-693, October 1995]; Canada Mortgage Housing Corporation's "Noise Isolation Provided by Gypsum Board Partitions;" and "Design Data for Acousticians" by Architectural and Construction Services of United States Gypsum [February 1985]).
Noise isolation is also important between vertically adjacent rooms. For example, students being energetic in their classroom on an upper floor of a school building should not disturb peers concentrating in the library below them. In these cases, the floor construction is the primary building element controlling the amount of noise transmitting between rooms. In buildings with ceilings, it is the combination of the floor and ceiling assembly that establishes the overall noise isolation performance between rooms.
There is far less information and test data about the noise isolation performance of floor-ceiling assemblies compared to partitions. The information that does exist is mostly for multifamily residential buildings with wood framing/flooring and gypsum board ceilings. For nonresidential buildings with concrete structural floors and suspended acoustic panel ceilings, the information and test data are limited.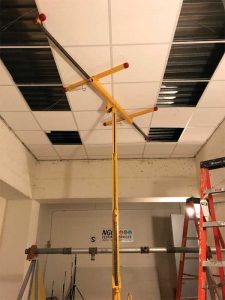 Without these accurate tests, architects and acousticians have followed a few general 'rules of thumb.' One of these is to achieve greater vertical noise isolation—the acoustic ceiling panels suspended below the concrete slab should:
be made of a certain material, such as wet-felted mineral fiber;
have a certain minimum weight, for example, 5 kg/m2 (1 psf); and
earn a minimum ceiling attenuation class (CAC) rating of 35.
Testing conducted for this article used a consistent, baseline, concrete floor slab and three suspended acoustic panel ceilings of different material types, weights, and acoustic performances to investigate the potential effect an acoustic ceiling has on the noise isolation performance of the overall floor-ceiling assembly.
Requirements in building standards
Most acoustic standards, guidelines, and rating systems have minimum noise isolation requirements between enclosed rooms. They are most often expressed as sound transmission class (STC) ratings for interior partitions, doors, windows, and floor-ceiling assemblies (read G. Madaras' "A Guide on the Four Categories for Acoustics Criteria in Building Standards and Guidelines").
Guidelines by the Facilities Guidelines Institute (FGI) for the design and construction of healthcare facilities require floor-ceiling assemblies between patient rooms in hospitals to achieve a minimum STC 50 rating (see Table 1.2-6 in the 2018 volume for hospitals).
The American National Standards Institute/Acoustical Society of America (ANSI/ASA) S12.60, Acoustical Performance Criteria, Design Requirements, and Guidelines for Schools, requires floor-ceiling assemblies between classrooms to achieve a minimum STC 50 rating (see Table 4 in the 2010 version).
The General Services Administration/Public Building Service (GSA/PBS) P100 Facilities Standards for federal office buildings require floor-ceiling assemblies between offices achieve a noise isolation class (NIC) rating of 50 (see section 3.5.3.4 in the 2018 version).
NIC is similar to STC as both measure the noise isolation performance of a building element or assembly. STC is measured in a laboratory and is used as reference during design. NIC is measured in the field after construction is complete.
Due to the consistent use of STC 50 for floor-ceiling assemblies in acoustic standards for healthcare, education, and office buildings, the research for this article also uses STC 50 as a goal reference criterion.