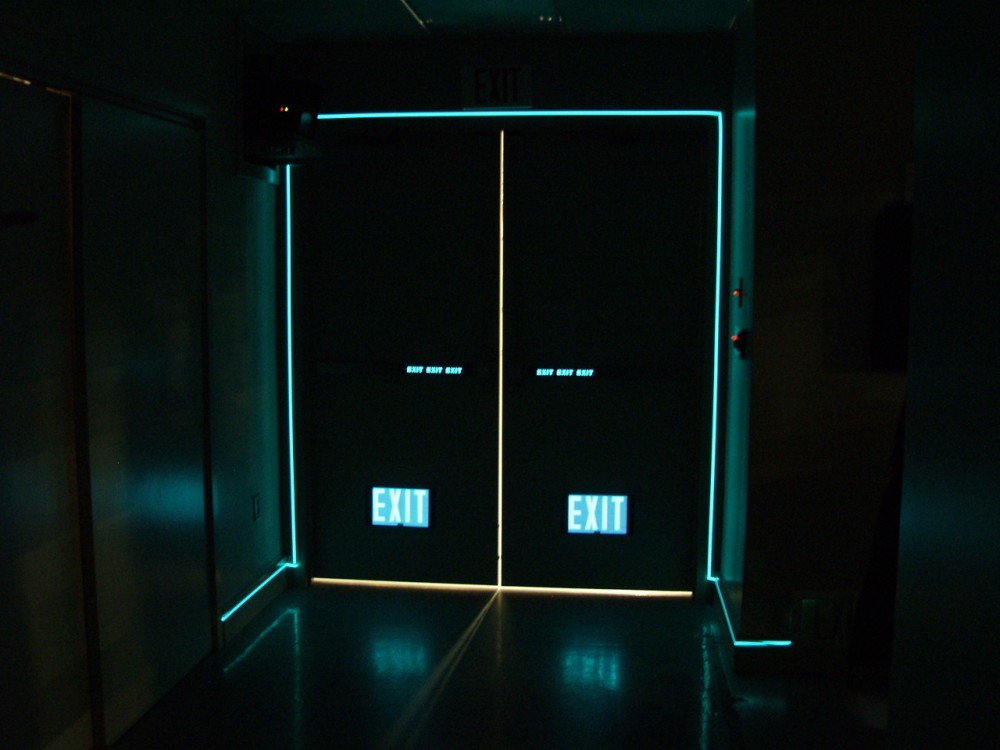 by Betsy Boesel Sagges
Emergency preparedness is a critical aspect of building construction and operation. Building codes have been amended in recent years to include better safety systems, including requirements in New York, Connecticut, and California for brighter egress path lighting with longer-sustained illumination.1
When it comes to emergency exit path marking in commercial buildings, there are primarily two types of illuminating systems: photo-luminescent (PL) and electro-luminescent (EL). Photoluminescence describes the phenomenon of light emission from any form of matter after the absorption of photons. PL marking systems, like 'glow tape,' are products with surfaces coated with a photo-luminescent film to show egress routes. For the products to activate and emit light, they must be exposed to light so the coating can absorb photon energy, and thus trigger the 'glow.' Ambient light is required to activate PL products throughout the entirety of a building's emergency egress paths.
Electro-luminescence (EL) indicates an electric-powered, uninterrupted light source that increases visibility to locate exit doors. EL systems are mounted in flexible tube and channel housing to fully integrate into an interior design esthetic. Connected directly to an electrical panel or sub-panel, EL lighting can be tested and measured any time of day or night by the flip of an override switch. An EL system is always ready, and in the event of a power loss, its built-in battery backup enables 100 percent illumination for at least four hours, providing time for occupants to evacuate a building, as well as emergency first responders to gain access.
"I disagree with the building codes that allow photo-luminescent materials, as my choice has always been to choose a Underwriters Laboratories (UL)-listed electro-luminescent path marking system," explained Lee DeVito, president of Firepro, a fire engineering firm based in Andover, Massachusetts. "Photo-luminescent material does not have a supervising system—if it gets damaged, no one knows. Plus, if it is not charged properly it may not light for 90 minutes."
Part of the Connecticut Building Code, EL systems have also received an endorsement from the state's Fairfield Fire Department, who put the system through rigorous testing at its training facility. The system provided firefighters the only visible exit path in conditions of zero visibility and over 425-C (800-F) temperature. Fire Chief Richard S. Felner's recommendation helped pave the way for this particular system securing UL 1994, Luminous Egress Path Marking Systems, and 924, Emergency Lighting and Power Equipment.
During a power outage at nearby Sacred Heart University building with no emergency generator, the school relied solely on an EL system to evacuate its students and residents safely, easily, and without incident.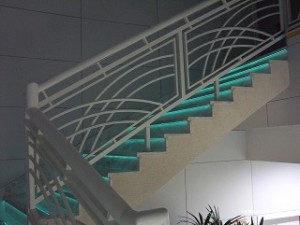 This EL type of emergency path lighting can also be found in 7 World Trade. Located in the former shadow of New York City's twin World Trade towers (which included the first steel building ever to collapse due to fire), the rebuilt skyscraper features EL emergency egress-marking, which goes beyond the safety requirements of the New York commercial building code.
The initial purchase price of a PL system is likely to be less expensive than that of electrician-required, hard-wired EL path lighting. Installation costs for the two systems can vary due to a building's size and design. However, in ongoing maintenance costs, PL and EL systems have a widely different budgetary impact.
The entire span of a PL system requires a constant light source to charge and maintain it, which can mean long-range energy consumption and expense. With EL path lighting, the full system draws electricity only when activated, and requires just a trickle charge to sustain its battery back-up. With this low-level utility usage, EL systems could be considered a more energy-efficient solution—an important distinction for those seeking sustainability-conscious building operations.
Of course, there are emergency path lighting applications beyond typical commercial, multi-family, and institutional buildings. This author's company recently provided a floor-proximate EL system for the Lost Mines of Sutter's Creek mirror-maze in the San Francisco Dungeons—a new Merlin Entertainment attraction at Fisherman's Wharf. That egress lighting system was installed with the same emergency exit markings used in commercial buildings, and mandated by the 2010 California Building Code under Section 411.7.
Notes
1 For more, visit www.documents.dgs.ca.gov/dsa/pubs/IR_10-1_rev01-06-12.pdf, along with www.ct.gov/dcs/lib/dcs/office_of_state_building_inspector_files/2009_amendment_final_unformatted.pdf and www.dos.ny.gov/agendas/codecouncil3-21-12/Agendaitem5_ProposedAppendixAFeb292012.pdf. (back to article)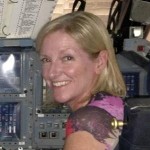 Betsy Boesel Sagges is a communications consultant with Egress Marking Systems, a manufacturer and distributor of electro-luminescent emergency path lighting solutions. She has 20 years of experience with technology companies, having worked with LG, Samsung, CNBC.com, and The Weather Channel. Sagges can be reached via e-mail at bsagges@comcast.net.